What's New at Regent Antiques?

Quite a lot actually! Our expert buyers have managed to locate some lovely pieces this month but we'd like to start by drawing your attention to this very special antique 5ft diameter calamander table with 6 Regency dining chairs:
Tables of this type and quality only come along occasionally. The table top itself is a thing of great beauty and is wonderful to behold. Take a look at the beautiful finish that the craftsmen who made it have managed to obtain from the calamander centre and satinwood marquetry around the circumference.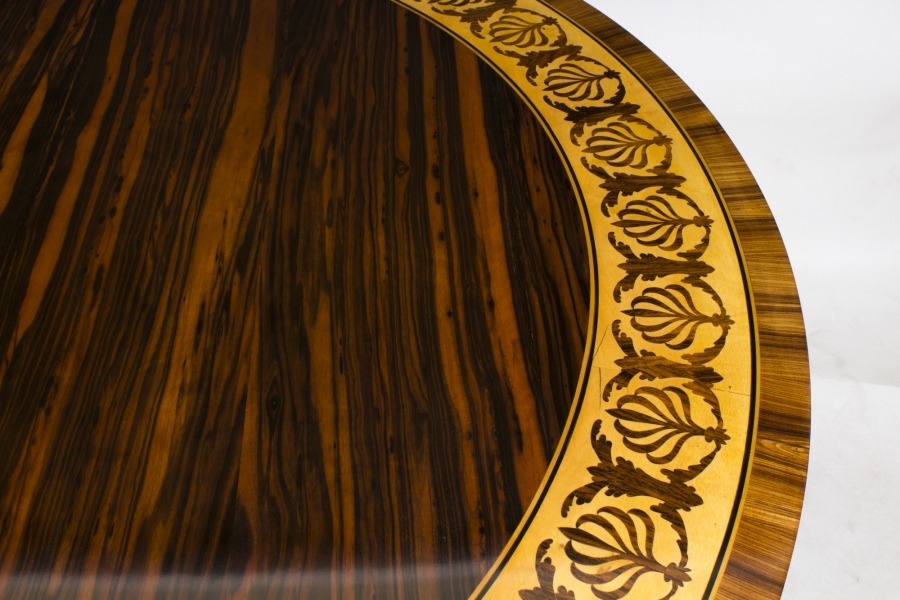 This table has been carefully and expertly restored in our own workshops and is offered for sale in excellent condition with six Regency dining chairs to complement it perfectly and seat your guests in great comfort. Still time to place your order and serve this year's Christmas dinner in real style on this fine table.
Next, we turn to France for this Antique French Vernis Martin Display Cabinet c.1890 which is, as I'm sure you'll agree, well worth taking a look at: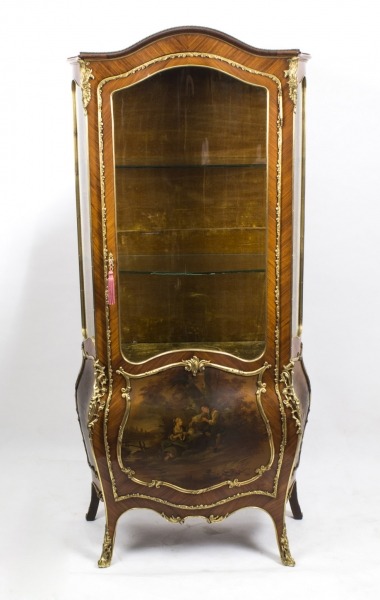 Please pay particular attention to the base which features three hand painted Vernis Martin panels. You will note that the central panel, which depicts a courting couple, is signed by the renownned artist, M Le Brun, a name associated with the best Vernis Martin furniture.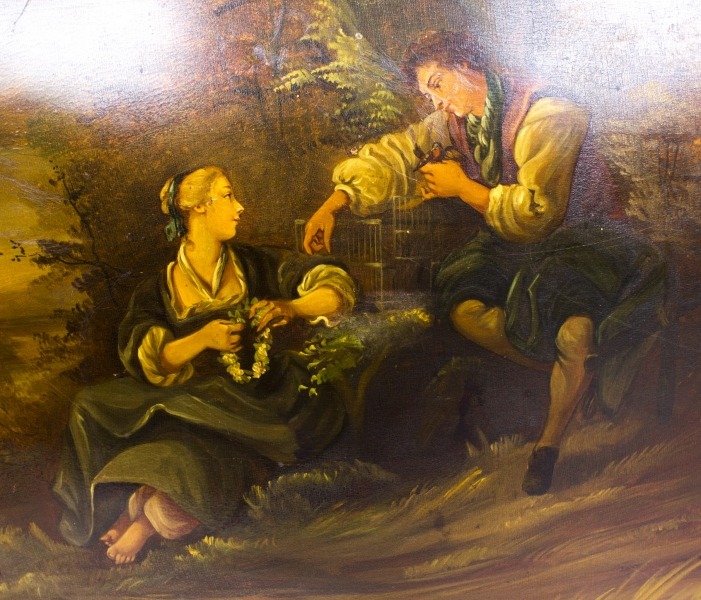 Standing almost six foot high this cabinet not only looks good but adds some serious display and storage space to any room you care to place it in.
Another fine piece featuring the lovey Vernis Martin finish is this petite Antique French Vernis Martin Bureau de Dame c.1880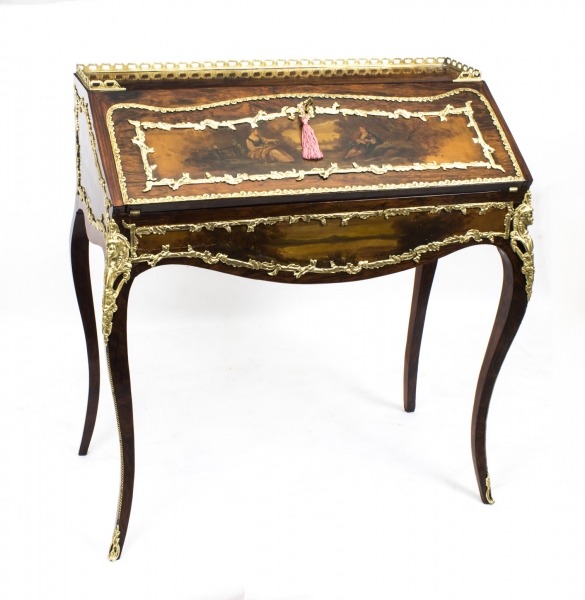 Despite its modest proportions, it is just a shade under three feet in width, this is a bureau that will make a very big impression on whoever sees it, not least because of the delightful decorative Vernis Martin painted panel in the central panel. Suppl;ied in excellent condition, with working lock and key, this is an ideal Christmas gift.
Speaking of Christmas gifts, here's a suggestion that you may find interesting, we are pleased to be able to offer this rather large and lovely Vintage Mappin and Webb Sterling Silver Photo Frame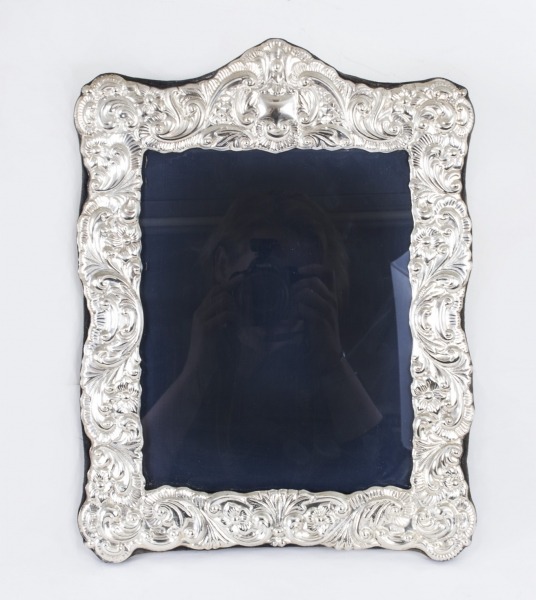 From a well known and sought after supplier this sterling silver frame is hallmarked London 1990 and also bears the mark of silversmiths, Mappin & Webb. It has a blue velvet back and features a decorative Edwardian design with acanthus and flowers.
This frame measures 38cm high by 30cm wide, (1ft 3in x 1ft) and would make a lovely Christmas gift, in excellent condition.
While we are on the subject of Christmas gift ideas, how about this Antique Victorian Betjemann's Jasperware Book Slide c.1880: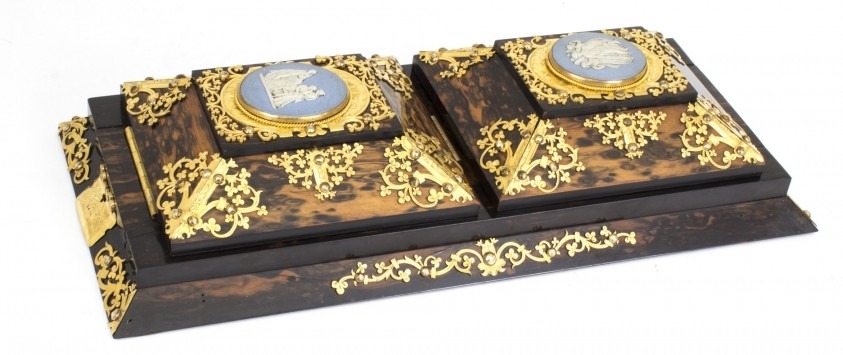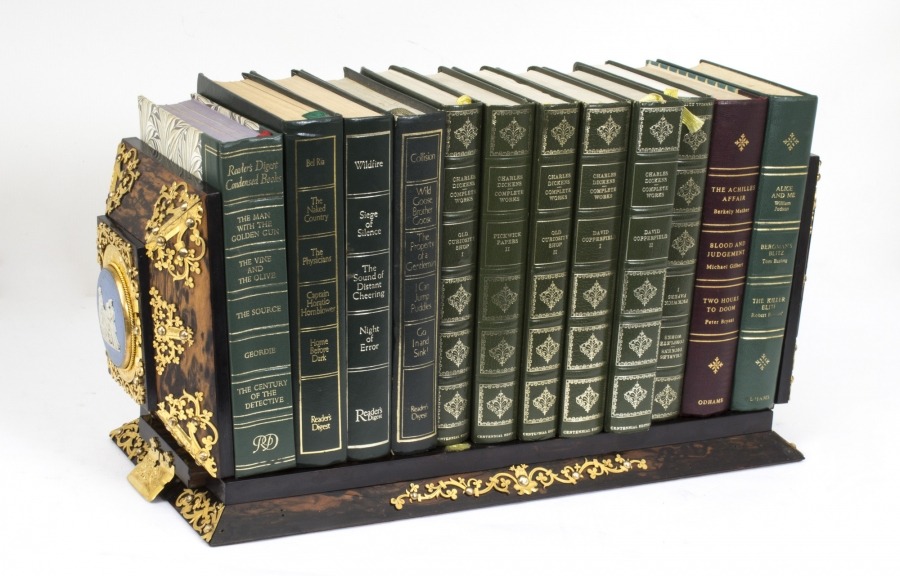 This is an antique Victorian Coromandel adjustable book slide decorated with with oval blue Wedgwood Jasperware plaques at both ends. It ws originally sold by Lester & Son of Newcastle-on-Tyne, with a plaque confirming that fact. The well known maker of patented mechanisms, Betjemann's of Pentonville Road, London have also put their name to the piece and it bears their engraved name and patent number 2414. In excellent, fully restored, condition and measuring some 70cm wide, (2ft 4in) when fully extended.
Finally, we've saved the best until last, here is a Antique Edwardian Mahogany Games Roulette Table c.1900 that combines good looks with good fun, let's all drink to that: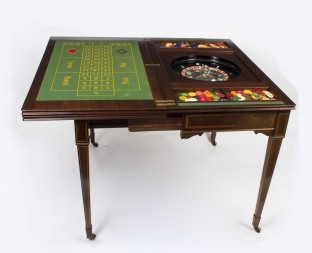 When closed, it's a useful and very attractive table, measuring 79cm high x 94cm wide x 56 deep when fully closed, and looking like this: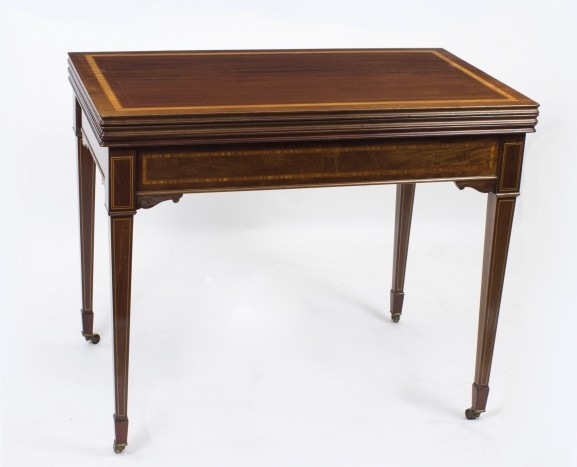 If you want to play cards, this versatile table has another configuration to offer, as follows: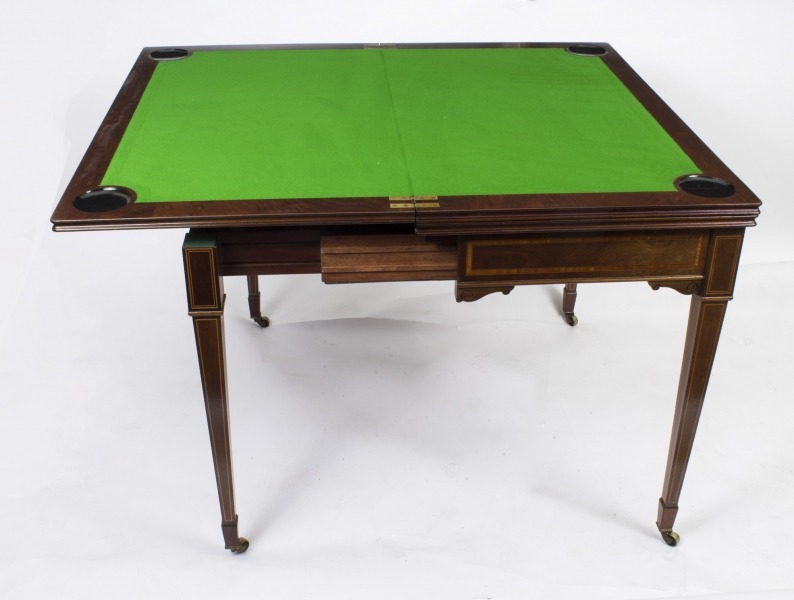 Supplied in excellent condition after an appointment with our talented restorers and having been fitted with a new baize to the card playing surface, this table is mounted on a sturdy mahogany frame and is fitted with the original brass castors so that you can move it around as required.
As ever, we are standing by to answer your questions and our shipping team are ready to carefully pack and ship any item to your neck of the woods. Please contact us for any other information you may require or, if you can, please visit our north London showroom where you can see all of the above newly listed items plus the rest of our large inventory of fine antique furniture and other items.