Victorian Antique Furniture by Gillows

Today we are featuring a beautiful antique mahogany 'D' shape console table by the world renowned cabinet makers Gillows of Lancaster, circa 1890 in date and offered for sale by Regent Antiques at just £1150.
Gillows is a pre-eminent name in Victorian antique furniture and this late 19th century piece is a fine example of their craft. It is D shaped,designed no doubt to fit in a spacious bedroom,landing or hall Its proportions are such that it would suit any period home or office. Not only is it a fine piece of work but it is practical too. Note the original brass castors which make it easy to relocate and also the drawer which is beautifully fitted and contains the makers name.Again the handles are original.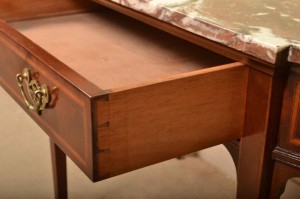 What stands out for me is the stunning marble top. This is fashioned from Rosso Carpazi marble. This marble is a dark red colour almost like dried blood with white veins running through it. You could imagine Michaelangelo or Bernini carving a classical statue from such beautiful stone. But it is not wasted on this table,instead it has been delicately cut to size and mounted. The rich tint itself is remarkable, but imagine the table dressed with suitable period ornaments , a mirror perhaps and items from a ladies toilette. It is hard to imagine that it began its journey in a block hewn from an Albanian mountain.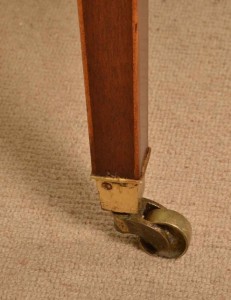 Turning to the table itself; it is made from the finest mahogany. Always popular in Victorian times , the main features of mahogany are its dense consistency and its rich brown colour. This table is solid wood not laminated , though some inlaid decoration has tastefully enhanced the piece.Interestingly the legs are in the Edwardian style,suggesting this table is somewhat ahead of its time. Gillows became Waring and Gillows at the end of the 19th Century, soon after this table was created and it may be the case that it is an early venture into the taste of the next century. Strange to think that this item was considered "cutting edge" but it would have been viewed as such at the time.
Even so the design of the table is very much founded in the neo-classical Robert Adam style. Such pieces often appear in auctions but rarely ones of this quality. Its proportions are excellent , but the table is not over large . It would fit comfortably into any suitable period residence , or maybe an office or waiting room.
It cries out to have copies of Country Life or Tatler placed upon it , maybe a silver coat brush & letter rack as well. Besides its functional design and its handsome appearance the desk also represents excellent investment value. Interest in 19th Century English quality furniture is high so to acquire this piece would be a money well spent.
It could be the start of a collection or an addition to an existing suite. The unusual colour of the table top simply adds the final touch to a remarkable piece of furniture.It is believed that it has spent much of its life in situ , there is little evidence of wear and tear so it looks on inspection much as it did when it left the Gillows workshop.
Visit our website, or better still our showroom, to see more examples of fine Victorian Antique Furniture.