Extraordinary Bespoke Leather Chairs from Regent Antiques

If you can't find the antique leather chair that you are looking for, or if you need a larger quantity of chairs, then our range of bespoke leather chairs may be just right for you.
At Regent Antiques, you will find a great selection of contemporary bespoke leather chairs, available in a variety of sizes, shapes and styles. All of them have been handmade with leather of the finest quality which can be stained in the colour of your choice.
Stunning Bespoke Leather Chairs Available for Sale
A good desk chair is something that you should definitely invest in. If you spend a lot of time at your desk, you need to make sure you are comfortable and well supported. The right chair can make a big difference in your level of comfort. 
At Regent Antiques, we take this into account and offer bespoke leather chairs that are not only visually appealing but also extremely comfortable.
One such example is this fabulous bespoke new leather 'Captains chair' in a beautiful buckskin colour.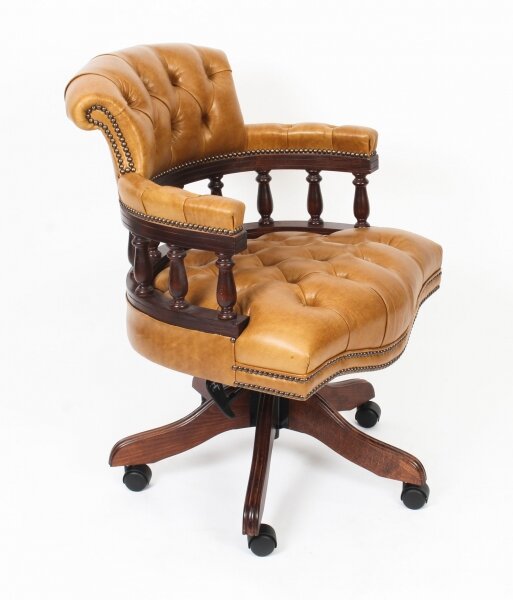 Bespoke English Handmade Leather Captains Desk Chair Buckskin
'Old English' Buckskin is an aniline-finished leather that is tanned to ensure a pleasing distressed or 'aged' finish from new. Extra fat liquors are applied during tanning to give the leather a slightly waxy feel. These leathers are designed to allow the natural marking variations of the leather to show through to the finish coat.
This lovely chair also has a swivel/ tilt mechanism which allows you to easily adjust the height according to your comfort.
Our second featured item is this magnificent bespoke new leather 'Gainsborough chair' in a stunning smoke brown colour.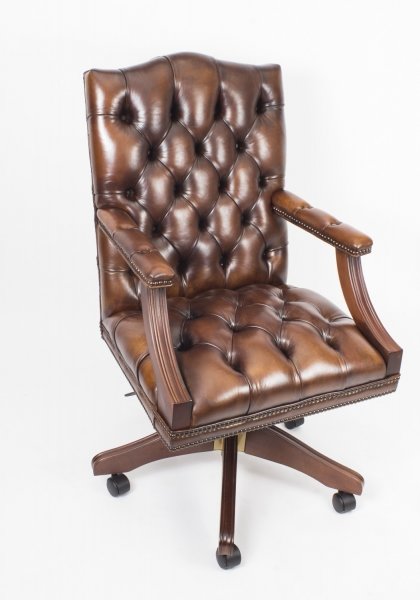 Bespoke English Handmade Gainsborough Leather Desk Chair Smoke Brown
Made in England by craftsmen who still use traditional materials and techniques, this superb bespoke armchair has been upholstered in top quality leather which has been hand-dyed and antiqued. Since it is hand-dyed, we are able to finish the leather to any colour requested.
The show wood on the chair is solid mahogany and the frames are made from solid beech.
The seat has individual double cone hand springing, whereby each spring is hand-sewn to the beechwood frame. The filling used for this chair is canvas, fibre and felt.
This superb leather chair is a must-have and is certain to add a touch of class to your home or office.
Next, we would like to present to you this exquisite bespoke new leather 'Director's chair' in a striking burgundy wine colour.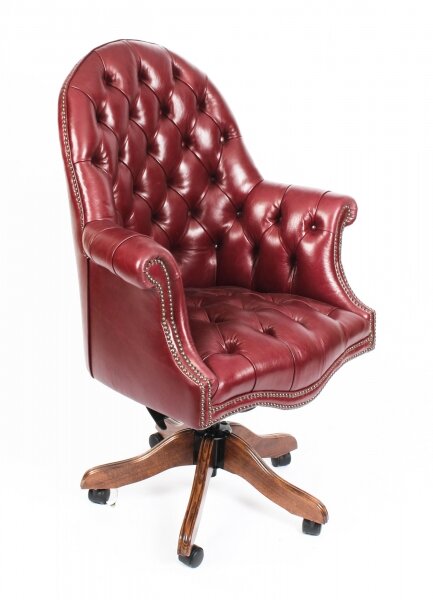 Bespoke English Handmade Leather Directors Desk Chair Burgundy
Pull-up leathers do not have a consistent colour density across the whole hide and are designed to change colour and sheen when pulled or stretched. They are not as colour fast as pigmented hides and are designed to allow furniture to age and relax through use and over time. Evidence of marks and scarring will be seen through the surface finish.
Each hide will be unique, as will be the furniture on which it is used. The studding is achieved with close individual nails or studs – not by using strips – and each nail is individually hammered in by hand.
The height of the chair is fully adjustable with a swivel/ tilt mechanism.
Handmade English furniture of this quality can last for generations if well-cared for.
Please note that all these chairs can be made in other colours upon request and we welcome wholesale enquiries and bespoke requests.
Today, we wanted to give you just a little glimpse into what you can expect to find here at Regent Antiques. Aside from bespoke leather armchairs, we also offer exceptional bespoke dining chairs to accommodate your guests in complete comfort.
Moreover, if you need sofas suitable for daily use in the home, office or in a commercial setting, be sure to check out our collection of bespoke leather sofas which can last for many years, getting more and more attractive the older they get.
Finally, if you do not want to miss any new items you might be interested in, please remember to sign up for our free new arrivals notification service which ensures that we will send to you weekly notifications of any fresh items that appear in your categories of interest.