Discover the Finest Quality Antique English Silver at Regent Antiques

At Regent Antiques, you will find some of the most exquisite examples of antique English silver and silver plate items from many different periods of English history.
As specialists in antique English silver, we have a vast collection of antique sterling silver tea sets, pots, dishes and many other items of antique silverware from renowned English silversmiths.
From silver plated photo frames and clocks, bookmarks and key rings to antique silver candlesticks and tea and coffee sets, good quality silver not only looks outstanding but maintains its value over the years. With its aesthetically pleasing sheen and amazing designs, there are a lot of options out there for beginner and experienced collectors as well as those looking to buy the perfect gift for a special occasion.
We've picked a few antique English silver items from our vast collection to give you just a little glimpse into what you can expect to find here at Regent Antiques.
Timeless antique English silver pieces never go out of fashion
From claret jugs to tea sets and biscuit barrels, fine antique English silver offers something really special for collectors. Stunning pieces – both large and small – from the simple to the highly ornate, allow you to build an exquisite collection of special objects which are also a solid investment.
Today we would like to take you through some great examples of antique English silver that we are proud to offer for sale.
To start off, we would like to present to you an antique English silver plate cut glass candelabra centerpiece circa 1830 in date.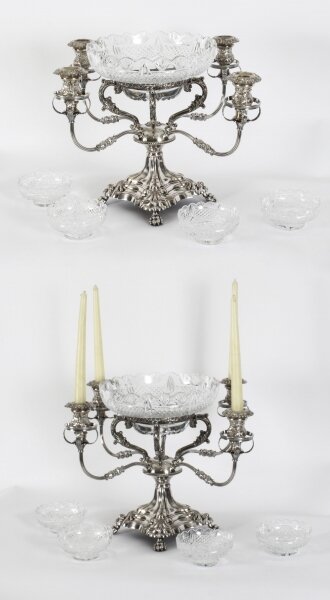 This is an elegant English William IV Old Sheffield silver plate on copper with cut glass centerpiece / candelabra.
The central section supports a cut-glass bowl on a shaped stepped base with scroll decoration, raised on four paw feet. The central knop is supporting four numbered reeded branches with acanthus leaf decoration, each with candle sconces.
The candle sconces can be exchanged for cut-glass dishes to turn the candelabra into a centerpiece when required.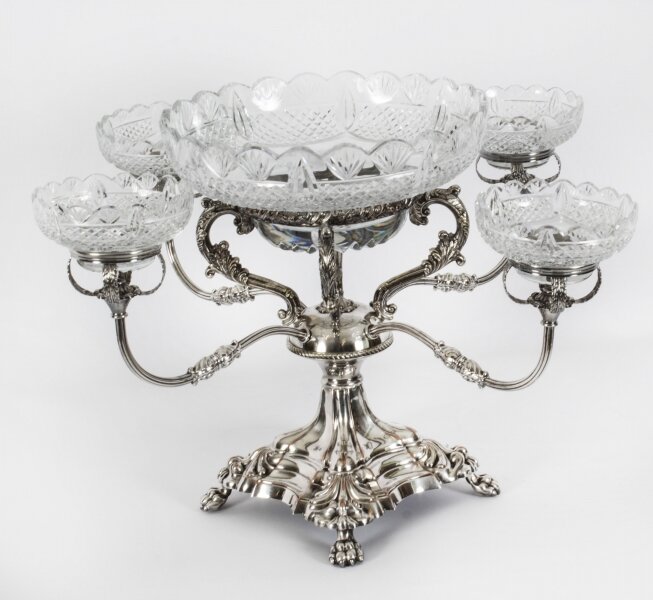 As an antique item the piece shows signs of use commensurate with age, these minor condition issues are mentioned for accuracy and, as seen in the accompanying photographs, the centerpiece displays beautifully.
Next, we would like to introduce you to this gorgeous antique English Old Sheffield silver plate tureen with the original domed cover, circa 1790 in date.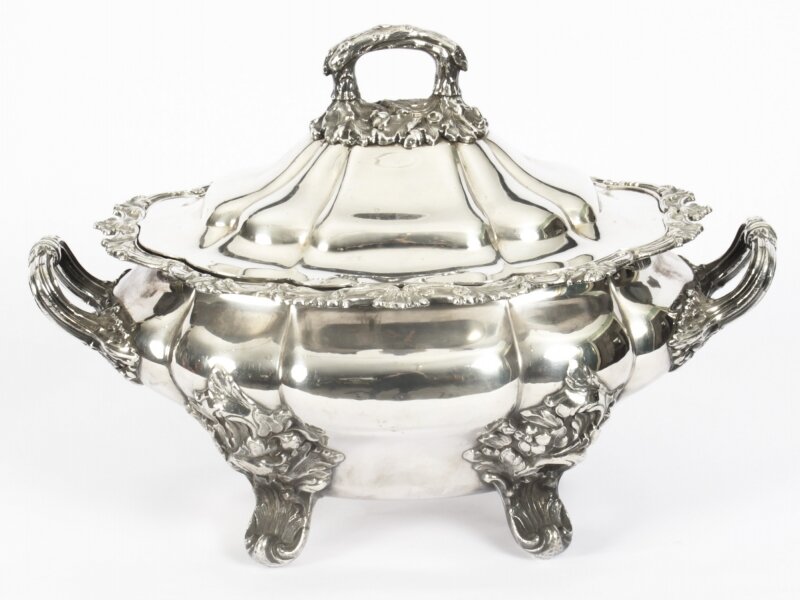 This magnificent tureen is oval in shape and features a beautiful foliate border with a domed lid surmounted by a decorative acanthus leaf handle.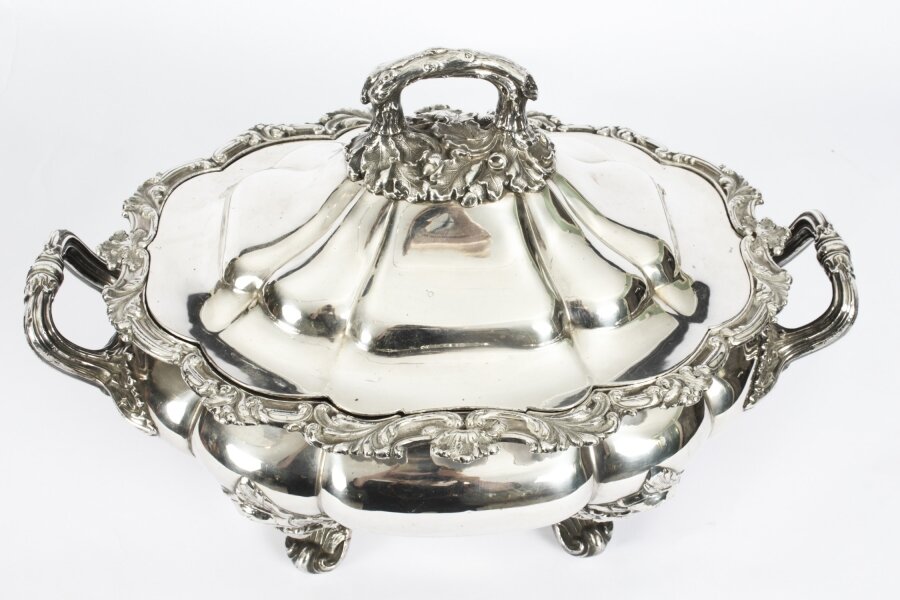 It bears the crosskeys mark for I.E stands for John Edwards III, and stands on four wonderful elegant acanthus leaf shaped feet.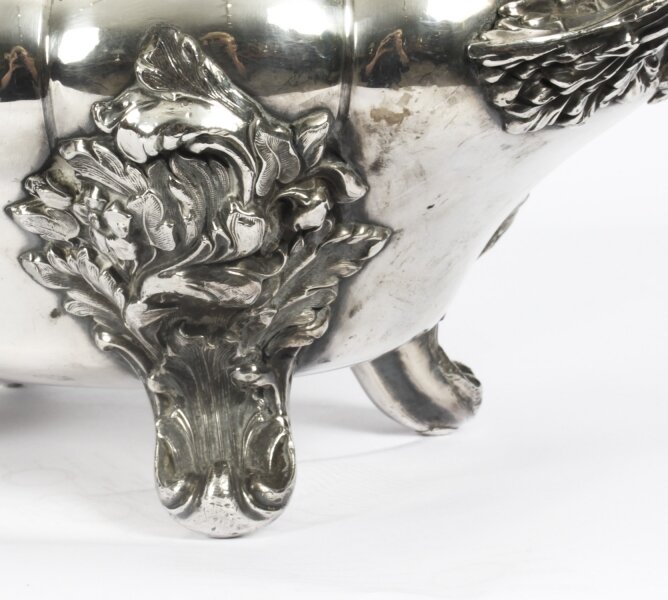 This wonderful tureen with domed cover is a piece in excellent condition and of highest quality and is ready to grace your dining table.
Another stylish piece is this antique Edwardian sterling silver card case with hallmarks for Birmingham 1904 and the makers mark of the renowned silversmiths Deakin & Francis Ltd, in the original fitted case, retailed by Mappin & Webb. Mappin & Webb is one of the UK's leading retailers of fine jewellery and silverware.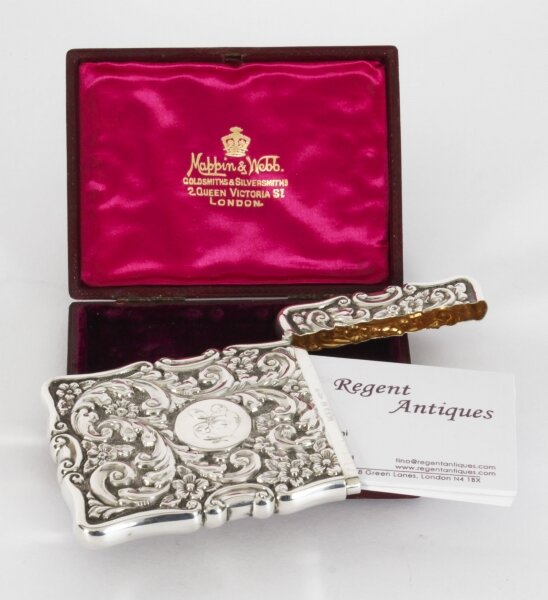 The card case is of shaped rectangular form, embossed with floral, foliate & scroll decoration on a matted background, with two circular cartouches.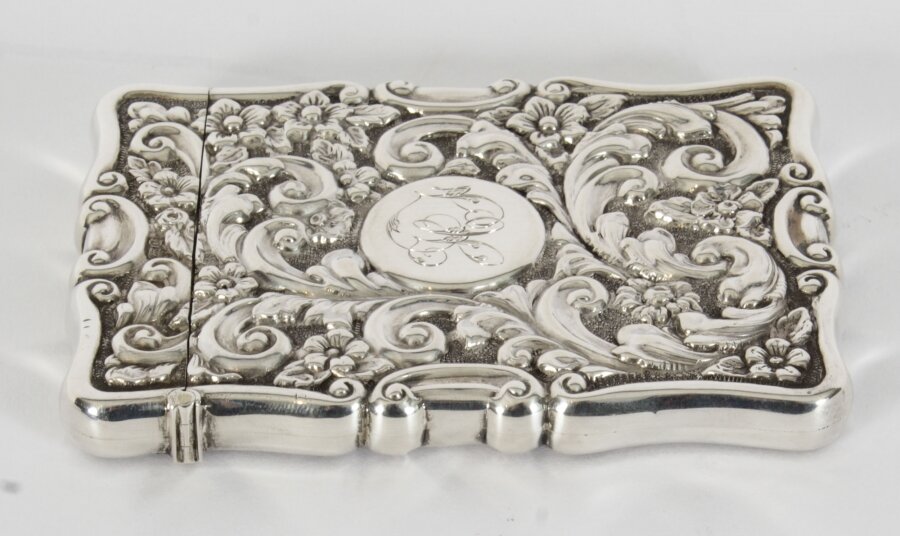 It is a truly lovely piece which would make a very unique business card holder.
Last but not least, we would like to show you this stunning antique Victorian silver-plated Doric column table lamp now converted to electricity, dating from the late 19th century.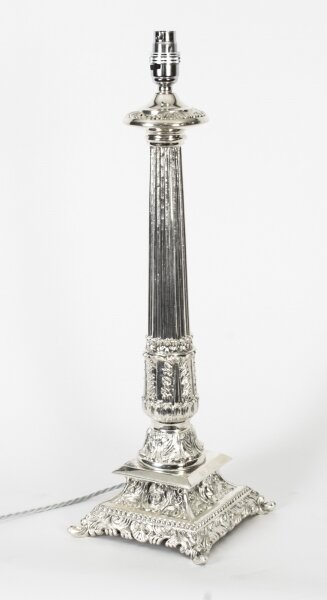 This opulent antique table lamp features a Doric Capital above a striking taping fluted cylinder shaft.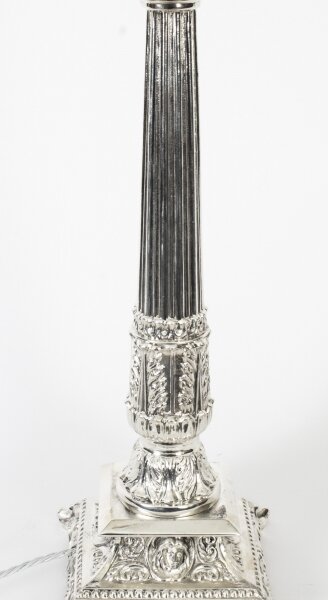 It stands on a beautiful acanthus leaf base with a decorative cut of pyramid pedestal on scroll feet.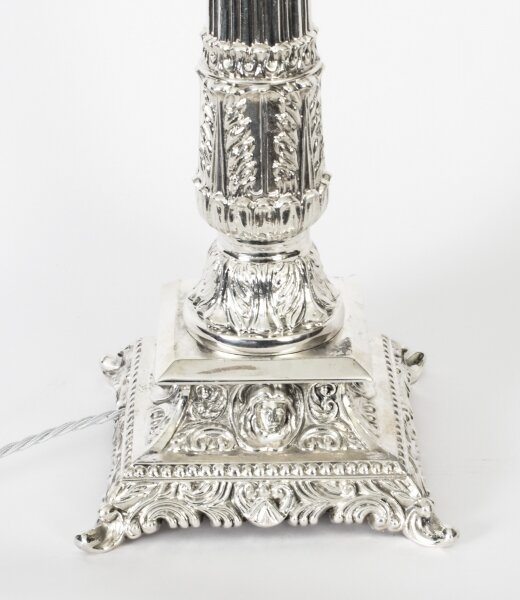 Add an element of Classical style to your home with this exquisite antique silver-plated table lamp.
When buying antique English silver, you should always try to buy the best quality that you can afford, as an antique silver item of fine quality will always retain – if not increase – in value. At Regent Antiques, we always provide accurate descriptions and photographs of items on sale as well as a certificate of authenticity upon request so that you can be reassured of the quality of your objects. We take silver very seriously and usually have a large inventory of interesting and high quality items offered for sale and available to view in our North London showrooms.
Our inventory changes regularly so be sure to sign up for our free new arrivals notifications service which ensures that we will send to you weekly notifications of any fresh items that appear in your categories of interest.
If you have any questions regarding antique desks we offer or any other enquiries, feel free to get in touch with our in-house consultants either by giving us a call +44 20 8809 9605 or sending an email to info@regentantiques.com.