Choosing the Finest Antique Desks

At Regent Antiques, you will always find a great variety of beautiful antique desks and writing tables to choose from.
There are many styles and sizes of desks and writing tables available and we try to offer as many different options as possible to our clients including pedestal desks, partners desks, bureau plats, secretaire desks, and many more.
In today's blog post, we would like to show you some fabulous examples from our collection.
Our Magnificent Antique Desks and Writing Tables
Choosing the right desk for your working environment can make all the difference, so it's important to find a desk that is both functional and which feels great to sit and work at.
Here at Regent Antiques, we aim to provide you with high quality antique desks and writing tables that are not only beautiful but practical and comfortable as well.
A perfect example is this superb antique William IV partners writing table in the manner of Gillows, dating from circa 1830.
Crafted from beautiful mahogany, this lovely desk has a rectangular top that features a moulded edge with an inset gold-tooled leather writing surface, which is a joy to write on.
Being a partners desk, it is finished on all sides so that it can stand freely in the middle of a room, making it extremely suitable for a large home or office.
It is fitted with three drawers on both sides, providing plenty of useful storage space.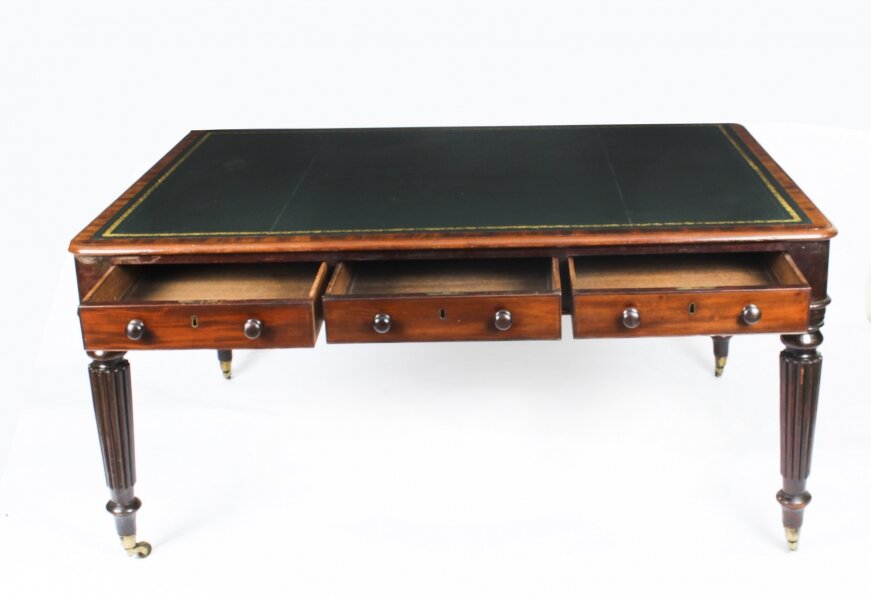 It is raised on four elegant ribbed tapering legs that terminate in their original brass castors and is supplied with working locks and key.
This antique partners desk is a truly exquisite and historic piece which will display beautifully in any interior and surely become the focus of your guests attention.
Next, we are delighted to show you this gorgeous antique Edwardian period mahogany kneehole desk, dating from circa 1900.
The desk features a beautifully moulded top with an inset gold-tooled tan leather writing surface and foliate carved border.
It is serpentine in shape with wonderful foliate carved decoration. The mahogany has aged to a golden shade with a striking grain and good patina. It is in very good condition and has been beautifully cleaned using a traditional form of wax finishing.
Quite apart from its good looks, this fine example of an Edwardian partners desk has something else to offer – lots of storage space. It has a central frieze drawer over a knee hole flanked by four drawers, fitted with the original decorative ormolu handles.
The desk is raised on carved ball and claw feet and is finished all round, so it is freestanding.
Instil the elegance of a bygone era to a special place in your home with this glorious antique desk.
Another striking item is this antique satinwood and marquetry desk by Edwards & Roberts, dating from circa 1880.
This superb desk is freestanding and has been crafted from beautiful satinwood which has been masterfully inlaid with a marquetry of ribbons, swags, garlands and shells.
The rectangular top is beautifully framed with walnut cross-banding and features an inset gold-tooled green leather writing surface.
Matching functionality with elegance, this fantastic desk has seven capacious drawers, providing plenty of storage space to accommodate all of your stationery.
The desk is raised on squared tapered legs that terminate in the original brass castors and is complete with the original handles and working locks and key.
This elegant desk is sure to add a touch of classic charm to your home and become the centrepiece of your furniture collection.
Our range of antique desks and writing tables is vast and, usually, there is something available for everyone.
If you are looking for a suitable chair, we have a wide range of bespoke leather armchairs to choose from, as well as a great collection of antique leather sofas and chairs that would be a perfect addition to your working environment.
Our antiques experts are always available to help with any queries that you may have about antique desks or any of our other items so please feel free to give us a call at +44 20 8809 9605 or send an email to info@regentantiques.com.