Antique Pair of Water Colours by Herbert Menzies Marshal Dated 1866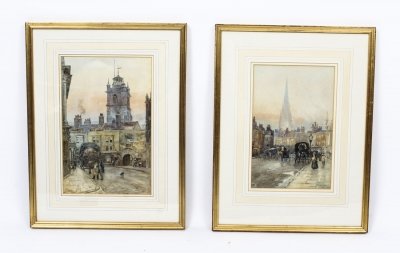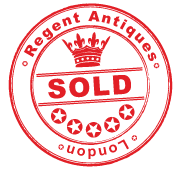 For weekly notifications of new arrivals in your categories of interest please click HERE.
This is a superb pair of watercolours by Herbert Menzies Marshall (1841 – 1913), from the series "London Watercolours" signed and dated 1866.

They feature busy Victorian street scenes with the views of St Mary Abbot in Kensington and St Giles-without-Cripplegate in the back grounds.

Add some London history to your home with these beautiful watercolours.

Condition:
In excellent condition, please see photos for confirmation.
Dimensions in cm:
Height 50 x Width 39 x Depth 2
Height 50 x Width 39 x Depth 2
Dimensions in inches:
Height 1 foot, 8 inches x Width 1 foot, 3 inches x Depth 1 inch
Height 1 foot, 8 inches x Width 1 foot, 3 inches x Depth 1 inch
Herbert Menzies Marshall (1841 – 1913) was an English watercolour painter and illustrator, and earlier in life a cricket player.
Marshall was born in Leeds, the son of a County Court judge, and educated at Westminster School, London, and Trinity College, Cambridge, where he earned a "blue" at cricket. He studied architecture under Charles-Auguste Questel in Paris and at the Royal Academy, London where he was awarded a "travelling studentship". When he returned to the academy in 1869, he decided to train instead as a watercolourist.

St Giles-without-Cripplegate
Marshall exhibited in London at the Royal Academy, Fine Art Society, Royal Watercolour Society and elsewhere. He was a member of the Royal Watercolour Society (RWS) and Royal Society of Painters and Etchers. In 1914, he became a professor of landscape painting at Queen's College, London, where he remained until his death. Marshall became known for his cityscapes of London but also painted in other parts of England and Scotland, and on the continent in the Netherlands, France and Germany.

There had been a Saxon church on the site in the 11th century but by 1090 it had been replaced by a Norman one. In 1394 it was rebuilt in the perpendicular gothic style. The stone tower was added in 1682.


Chronicle of the Grey Friars of London
The church has been badly damaged by fire on three occasions: In 1545, in 1897 and during an air raid of the Blitz of the Second World War on the night of 24 August 1940. German bombs completely gutted the church but it was restored using the plans of the reconstruction of 1545. A new ring of twelve bells was cast by Mears and Stainbank in 1954, and this was augmented with a sharp second bell cast in 2006 by the Whitechapel Bell Foundry.
The church was designated a Grade I listed building on 4 January 1950.

St Mary Abbots is a church located on Kensington High Street and the corner of Kensington Church Street in London W8.

The present church structure was built in 1872 and designed by the celebrated architect Sir George Gilbert Scott, combining neo-Gothic and early-English styles. This edifice remains noted for having the tallest spire in London and is the latest in a series on the site since the beginning of the 12th century.

Sir Aubrey de Vere was a Norman knight who was rewarded with the manor of Kensington, among other estates, after the successful Norman Conquest. Around 1100, his eldest son, Godfrey (great-uncle of Aubrey, 1st Earl of Oxford), was taken seriously ill and cared for by Faritius, abbot of the Benedictine Abbey of St Mary at Abingdon. After a period of remission, Godfrey de Vere died in 1106 aged about 19.

The de Vere family's gratitude to the abbey for their son's care was recognised by its bequest of land 270 acres In 1262 the abbey founded a church and parish in Kensington, dedicated to St Mary. The epithet of Abbots is deemed to derive from its link with the ancient Abingdon Abbey rather than that subsequently with the diocese of the Bishop of London. However, this led to a dispute with the bishop and legal action followed in the diocesan consistory court. This resulted in the patronage of the church passing to the bishop in perpetuity but rights over the surrounding land remaining with the abbey. The succession of vicars is recorded in a direct line back to this foundation in 1262.
In 1370 the Norman church was rebuilt. When William III relocated the Royal Court to Kensington Palace the area became fashionable rendering the medieval church too small, thus it was demolished at the end of the 17th century and replaced by a Late Renaissance-style building. This in turn proved too small as London urbanised in the 19th century.

Around 1860 the vicar, Archdeacon William Sinclair, launched a campaign for the building of a striking new church. The architect George Gilbert Scott was engaged and recommended the demolition of the existing church to take advantage of the site at the road junction. St Mary Abbot's design is almost certainly influenced by Scott's earlier work on Dunblane Cathedral - its west front's tall window and carved tympanum are similar to those in the Cathedral. The 278 ft (85 m) high spire is clearly influenced by that of St Mary Redcliffe, Bristol. The present church retains many fittings from the earlier churches, especially funeral monuments from the mid-17th century onwards.


Angelica Kauffman, RA (1741 - 1807)
was a Swiss-born Austrian Neoclassical painter who had a successful career in London and Rome. Though born as "Kauffmann", Kauffman is the preferred spelling of her name in English; it is the form she herself used most in signing her correspondence, documents and paintings.
While Kauffman produced many types of art, she identified herself primarily as a history painter, an unusual designation for a woman artist in the 18th century. History painting, was considered the most elite and lucrative category in academic painting during this time period. Under the direction of Sir Joshua Reynolds, the Royal Academy made a strong effort to promote history painting to a native audience who were more interested in commissioning and buying portraits and landscapes.
Despite the popularity that Kauffman enjoyed in British society and her success as an artist, she was disappointed by the relative apathy that the British had towards history painting. Ultimately she left Britain for the continent, where history painting was better established, held in higher esteem and patronized.
The works of Angelica Kauffman have retained their reputation. By 1911, rooms decorated with her work were still to be seen in various quarters. At Hampton Court was a portrait of the duchess of Brunswick; in the National Portrait Gallery, a self-portrait. There were other pictures by her at Paris, at Dresden, in the Hermitage at St Petersburg, in the Alte Pinakothek atMunich, in Kadriorg Palace, Tallinn (Estonia).
Satinwood
is a hard and durable wood with a satinlike sheen, much used in cabinetmaking, especially in marquetry. It comes from two tropical trees of the family Rutaceae (rue family). East Indian or Ceylon satinwood is the yellowish or dark-brown heartwood of Chloroxylon swietenia.
The lustrous, fine-grained, usually figured wood is used for furniture, cabinetwork, veneers, and backs of brushes. West Indian satinwood, sometimes called yellow wood, is considered superior. It is the golden yellow, lustrous, even-grained wood found in the Florida Keys and the West Indies.
It has long been valued for furniture. It is also used for musical instruments, veneers, and other purposes. Satinwood is classified in the division Magnoliophyta, class Magnoliopsida, order Sapindales, family Rutaceae.
Our reference: R0020