Vintage 3 pillar Dining Table by William Tillman & 12 chairs 20th C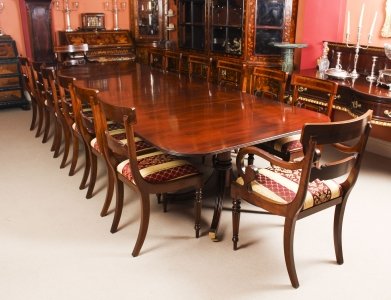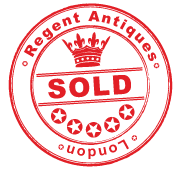 For weekly notifications of new arrivals in your categories of interest please click HERE.
This is fabulous Vintage dining set comprising a Regency style dining table by William Tillman, Circa 1980 in date and a matching set of twelve dining chairs.

The table is made of stunning solid flame mahogany and is raised on three "gun barrel" turned columns on quadruple swept sabre leg bases which are fitted with brass toes and castors.

This table was purchased at great expense from the master cabinet maker William Tillman, Crouch Lane, Borough Green Kent in March 1982.

The table has two leaves which can be added or removed as required to suit the occasion. This makes it a versatile dining table which can comfortably seat twelve people.

The underside bears labels for William Tillman and is stamped 443A.

The beautiful bespoke set of twelve Regency style flame mahogany dining chairs comprises ten side chairs and two armchairs. They are made of solid mahogany with fabulous satinwood crossbanded decoration accented with boxwood and ebony line inlay and are raised on elegant reeded tapering front legs with sabre back legs.
They all have drop in seats which are upholstered in a striking burgundy and gold fabric. The seat cushions can be removed to reveal cane seats which allow for cooler and more comfortable dining in the warmer summer months.
Condition:
In excellent condition the table having been beautifully cleaned, polished and waxed and the chairs upholstered in our workshops, please see photos for confirmation.
Dimensions in cm:
Height 73 x Width 378 x Depth 135 - Fully Extended
Height 73 x Width 274 x Depth 135 - With both leaves removed
Height 93 x Width 48 x Depth 46 - Chairs
Height 95 x Width 56 x Depth 53 - Armchairs
Height 53
Dimensions in inches:
Height 2 feet, 5 inches x Width 12 feet, 5 inches x Depth 4 feet, 5 inches - Fully Extended
Height 2 feet, 5 inches x Width 9 feet x Depth 4 feet, 5 inches - With both leaves removed
Height 3 feet, 1 inch x Width 1 foot, 7 inches x Depth 1 foot, 6 inches - Chairs
Height 3 feet, 1 inch x Width 1 foot, 10 inches x Depth 1 foot, 9 inches - Armchairs
Height 1 foot, 9 inches
William Tillman
William Tillman was making fine reproduction furniture from the1970's until his retirement at the end of the 1990's and his work is considered to be of the highest quality and collected throughout the world. It has been sold in all of the famous London Stores including Harrods,Peter Jones and Maples and will almost certainly be considered important antique furniture of the future.

Every piece of furniture was produced with the utmost skill and knowledge to ensure that the finished article would bear the most critical comparison with the original. Whilst the polish used was resistent to heat and water, the finished surface has a wax patination similar to that found on early furniture.

Tillman pieces won the British Furniture Manufacturers, Showpiece of the Year award in three consecutive years.

Flame Mahogany
Thomas Sheraton - 18th century furniture designer, once characterized mahogany as "best suited to furniture where strength is demanded as well as a wood that works up easily, has a beautiful figure and polishes so well that it is an ornament to any room in which it may be placed." Matching his words to his work, Sheraton designed much mahogany furniture. The qualities that impressed Sheraton are particularly evident in a distinctive pattern of wood called "flame mahogany."

The flame figure in the wood is revealed by slicing through the face of the branch at the point where it joins another element of the tree.
Angelica Kauffman, RA (1741 - 1807)
was a Swiss-born Austrian Neoclassical painter who had a successful career in London and Rome. Though born as "Kauffmann", Kauffman is the preferred spelling of her name in English; it is the form she herself used most in signing her correspondence, documents and paintings.
While Kauffman produced many types of art, she identified herself primarily as a history painter, an unusual designation for a woman artist in the 18th century. History painting, was considered the most elite and lucrative category in academic painting during this time period. Under the direction of Sir Joshua Reynolds, the Royal Academy made a strong effort to promote history painting to a native audience who were more interested in commissioning and buying portraits and landscapes.
Despite the popularity that Kauffman enjoyed in British society and her success as an artist, she was disappointed by the relative apathy that the British had towards history painting. Ultimately she left Britain for the continent, where history painting was better established, held in higher esteem and patronized.
The works of Angelica Kauffman have retained their reputation. By 1911, rooms decorated with her work were still to be seen in various quarters. At Hampton Court was a portrait of the duchess of Brunswick; in the National Portrait Gallery, a self-portrait. There were other pictures by her at Paris, at Dresden, in the Hermitage at St Petersburg, in the Alte Pinakothek atMunich, in Kadriorg Palace, Tallinn (Estonia).
Satinwood
is a hard and durable wood with a satinlike sheen, much used in cabinetmaking, especially in marquetry. It comes from two tropical trees of the family Rutaceae (rue family). East Indian or Ceylon satinwood is the yellowish or dark-brown heartwood of Chloroxylon swietenia.
The lustrous, fine-grained, usually figured wood is used for furniture, cabinetwork, veneers, and backs of brushes. West Indian satinwood, sometimes called yellow wood, is considered superior. It is the golden yellow, lustrous, even-grained wood found in the Florida Keys and the West Indies.
It has long been valued for furniture. It is also used for musical instruments, veneers, and other purposes. Satinwood is classified in the division Magnoliophyta, class Magnoliopsida, order Sapindales, family Rutaceae.
Our reference: 09288a