Antique Set 8 English Hepplewhite Shield Back Dining Chairs 19th C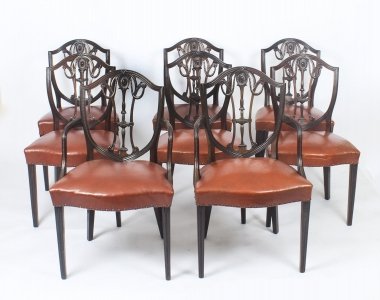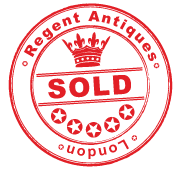 For weekly notifications of new arrivals in your categories of interest please click HERE.
Transform the fine dining experience in your home with this set of Hepplewhite dining chairs fit for a king. This is a truly beautiful set of eight English mahogany shield back dining chairs of George Hepplewhite design, retailed by Cooper & Holt of Bunhill Row, London and dating to around 1880.
These Hepplewhite dining chairs, comprising six singles and two armchairs, feature moulded backs with shaped splats that are beautifully hand carved with oval paterae, urns and leaf swag decoration. The seats are upholstered in the original brown leather with new springing throughout and are raised on exquisite square tapered and moulded front legs. The chairs have been masterfully crafted in beautiful solid mahogany and the finish and attention to detail on display are truly breathtaking.
George Hepplewhite (1727 - 1786) was an English cabinet maker, rightfully regarded along with Thomas Sheraton and Thomas Chippendale as one the three greatest cabinet makers who ever lived. Hepplewhite produced designs that were slender and more curvilinear in shape than his contemporaries. Typical of his style were shorter more curved chair arms, straight legs and shield-shape chair backs. Tragically, there are no pieces of furniture made by Hepplewhite or his firm known to exist but he gave his name to a distinctive style of light, elegant furniture that was fashionable between about 1775 and 1800 and reproductions of his designs have lived on through the centuries as typified by these fine Hepplewhite dining chairs.
This set of Hepplewhite dining chairs epitomise the great man's distinctive style. They are truly breathtaking and have to be seen to believed; they represent the last word in elegance and taste and will add a truly regal tone to your dinner gatherings.
Condition Of This Set Of Hepplewhite Dining Chairs
This set of Hepplewhite dining chairs is in a great condition as can be observed in the photos we have supplied in our gallery. Kindly take a few moments to look at them and assure yourself of this.
To Organize to View This Set of Hepplewhite Dining Chairs in Person
We're certain you will agree that it's a good idea to see wonderful antiques like this set of Hepplewhite dining chairs in-person prior to buying. Being mindful of this, we are always pleased to welcome you to our North London salesroom to see this great set of Hepplewhite dining chairs for yourself. Whilst you are here you will also be able to look over our considerable number of other attractive pieces and also talk about any questions or problems that you could have. Our in house advisors are readily available to reply to queries, not just about this set of Hepplewhite dining chairs but also about antiques and collectibles more generally. They've got a significant amount of knowledge and are always delighted to advise.
Please telephone ahead of time so that we can be certain we have the right specialist on hand to advise you. We sporadically open on Saturdays, so if you would like to come at a weekend, please make contact in advance to ensure that we will be open. We want to avoid you making a wasted journey. When getting in touch please be sure you have the item reference number to hand so we can make certain which exact thing you are looking to discuss.
Regent Antiques Showroom Opening Hours
Our London salesroom is open Mon to Fri 10am – 5pm for you to see this set of Hepplewhite dining chairs. We also open sporadically on Saturdays – but remember to ring ahead of time before taking the journey on a Saturday as we do not intend you to be disappointed.
To Get More Details About This set of Hepplewhite Dining Chairs
If you're not able to travel to us, then we are always glad to respond to any requests you may have about this set of Hepplewhite dining chairs by email or phone. We have in house experts who will be delighted to advise you about any aspect of your proposed acquisition, so why not take the opportunity to get more info. When you get in touch please be sure you mention the item reference number so we know which of our various objects you are referring to. You will see both our email address and our phone number on this page.
Shipping, Delivery and Returns
Great pieces such as this set of Hepplewhite dining chairs call for skilled packing and shipping to guarantee they get to you in the the exact same shape that they left us. We take great satisfaction in our shipping competence and can deliver to almost any location worldwide. However, we ask you to get in contact to review delivery plans and receive a quote before making any purchases, as we will need to be sure that we can fulfill all your transportation expectations. As you will understand, some articles need to have delicate handling and we need to make sure that everything is in position to get them to you safely. Please quote the item reference number for this set of Hepplewhite dining chairs when getting in touch so we know exactly what the shipping requirements will involve.
You will be happy to know that shipping is free to any mainland UK location.
If you are not pleased with this set of Hepplewhite dining chairs, we provide a 14 day money-back guarantee in compliance with the Distance Selling Regulations. If you do wish to return it, you will have to pay the return shipping charges, unless we sent you an item materially different to what you were expecting or have mis described it in some material way. You must send the article back in its' original condition and packaging.
You will be liable for any customs duties, taxes or fees that become due outside the European Union.
Dimensions in cm:
Height 95 x Width 52 x Depth 54 - Side Chair
Height 92 x Width 57 x Depth 59 - Armchair
Height 47 - Seat Height
Dimensions in inches:
Height 3 feet, 1 inch x Width 1 foot, 8 inches x Depth 1 foot, 9 inches - Side Chair
Height 3 feet, 0 inches x Width 1 foot, 10 inches x Depth 1 foot, 11 inches - Armchair
Height 1 foot, 6 inches - Seat Height
Angelica Kauffman, RA (1741 - 1807)
was a Swiss-born Austrian Neoclassical painter who had a successful career in London and Rome. Though born as "Kauffmann", Kauffman is the preferred spelling of her name in English; it is the form she herself used most in signing her correspondence, documents and paintings.
While Kauffman produced many types of art, she identified herself primarily as a history painter, an unusual designation for a woman artist in the 18th century. History painting, was considered the most elite and lucrative category in academic painting during this time period. Under the direction of Sir Joshua Reynolds, the Royal Academy made a strong effort to promote history painting to a native audience who were more interested in commissioning and buying portraits and landscapes.
Despite the popularity that Kauffman enjoyed in British society and her success as an artist, she was disappointed by the relative apathy that the British had towards history painting. Ultimately she left Britain for the continent, where history painting was better established, held in higher esteem and patronized.
The works of Angelica Kauffman have retained their reputation. By 1911, rooms decorated with her work were still to be seen in various quarters. At Hampton Court was a portrait of the duchess of Brunswick; in the National Portrait Gallery, a self-portrait. There were other pictures by her at Paris, at Dresden, in the Hermitage at St Petersburg, in the Alte Pinakothek atMunich, in Kadriorg Palace, Tallinn (Estonia).
Satinwood
is a hard and durable wood with a satinlike sheen, much used in cabinetmaking, especially in marquetry. It comes from two tropical trees of the family Rutaceae (rue family). East Indian or Ceylon satinwood is the yellowish or dark-brown heartwood of Chloroxylon swietenia.
The lustrous, fine-grained, usually figured wood is used for furniture, cabinetwork, veneers, and backs of brushes. West Indian satinwood, sometimes called yellow wood, is considered superior. It is the golden yellow, lustrous, even-grained wood found in the Florida Keys and the West Indies.
It has long been valued for furniture. It is also used for musical instruments, veneers, and other purposes. Satinwood is classified in the division Magnoliophyta, class Magnoliopsida, order Sapindales, family Rutaceae.
Our reference: 08979