Antique Italian Grand Tour Gilt Bronze Model of Warwick Vase 19th C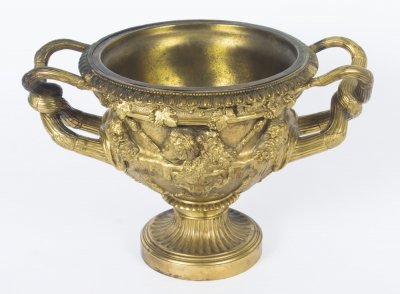 Click on image to zoom
For weekly notifications of new arrivals in your categories of interest please click HERE.
Our London showrooms
Open Mon to Fri 10am - 5pm
Open Sat 30th March 10am - 4pm
This is a beautiful antique Italian Grand Tour gilt bronze model of the Warwick vase, C 1860 in date.
This stunning bronze is superbly cast and has a superb gilt patina. The vase features egg and dart rim, bifurcated vinestock handles and the body is cast with masks of Bacchus and Hercules between two satyrs, with the pelt of the Nemean lion below, and raised on a circular spreading base with a fixed liner.
The attention to detail throughout this piece is second to none and this high quality bronze is made from the lost wax process
'cire perdue'.
Condition:

In excellent condition. As an antique item its show signs of use commensurate with age, these minor condition issues are mentioned for accuracy and, as seen in the accompanying photographs, the bronze displays beautifully.
Dimensions in cm:
Height 22 x Width 34 x Depth 23
Dimensions in inches:
Height 9 inches x Width 1 foot, 1 inch x Depth 9 inches
The Warwick Vase
was found in fragments by Gavin Hamilton in 1769–1770 digging in the silts of Lake Pantanello in the grounds of the Villa Tiburtina, the villa of the Roman Emperor Hadrian outside Rome. It was restored in 1772–1774 by Grandjacquet to designs by Piranesi for Sir William Hamilton, who gave it to George Greville, Earl of Warwick. The Vase stood in the courtyard of Warwick Castle for almost two centuries until it was purchased for The Burrell Collection in 1979. A monumental marble sculpture in the form of a two-handled drinking cup, it is decorated with acting masks and motifs relating to the cult of the Roman god of wine, Bacchus (the Greek god Dionysos).
The Vase was one of many fine sculptures with which Hadrian (who ruled the Roman Empire from 117 to 138) adorned the gardens of his palatial villa. The Dionysian imagery of many of these sculptures evoked the pleasures of life enjoyed through good wine and feasting. Since its rediscovery the Warwick Vase has been a major source of inspiration for the Neo-Classical school in the decorative arts in Britain.
The Grand Tour was the traditional trip of Europe undertaken by mainly upper-class European young men of means. The custom flourished from about 1660 until the advent of large-scale rail transit in the 1840s, and was associated with a standard itinerary.

It served as an educational rite of passage. Though primarily associated with the British nobility and wealthy landed gentry, similar trips were made by wealthy young men of Protestant Northern European nations on the Continent, and from the second half of the 18th century some South American, U.S., and other overseas youth joined in. The tradition was extended to include more of the middle class after rail and steamship travel made the journey less of a burden.

The primary value of the Grand Tour, it was believed, lay in the exposure both to the cultural legacy of classical antiquity and the Renaissance, and to the aristocratic and fashionably polite society of the European continent. In addition, it provided the only opportunity to view specific works of art, and possibly the only chance to hear certain music. A grand tour could last from several months to several years. It was commonly undertaken in the company of a knowledgeable guide or tutor.

The Grand Tour not only provided a liberal education but allowed those who could afford it the opportunity to buy things otherwise unavailable at home, and it thus increased participants' prestige and standing. Grand Tourists would return with crates of art, books, pictures, sculpture, and items of culture, which would be displayed in libraries, cabinets, gardens, and drawing rooms, as well as the galleries built purposely for their display; The Grand Tour became a symbol of wealth and freedom.
Angelica Kauffman, RA (1741 - 1807)
was a Swiss-born Austrian Neoclassical painter who had a successful career in London and Rome. Though born as "Kauffmann", Kauffman is the preferred spelling of her name in English; it is the form she herself used most in signing her correspondence, documents and paintings.
While Kauffman produced many types of art, she identified herself primarily as a history painter, an unusual designation for a woman artist in the 18th century. History painting, was considered the most elite and lucrative category in academic painting during this time period. Under the direction of Sir Joshua Reynolds, the Royal Academy made a strong effort to promote history painting to a native audience who were more interested in commissioning and buying portraits and landscapes.
Despite the popularity that Kauffman enjoyed in British society and her success as an artist, she was disappointed by the relative apathy that the British had towards history painting. Ultimately she left Britain for the continent, where history painting was better established, held in higher esteem and patronized.
The works of Angelica Kauffman have retained their reputation. By 1911, rooms decorated with her work were still to be seen in various quarters. At Hampton Court was a portrait of the duchess of Brunswick; in the National Portrait Gallery, a self-portrait. There were other pictures by her at Paris, at Dresden, in the Hermitage at St Petersburg, in the Alte Pinakothek atMunich, in Kadriorg Palace, Tallinn (Estonia).
Satinwood
is a hard and durable wood with a satinlike sheen, much used in cabinetmaking, especially in marquetry. It comes from two tropical trees of the family Rutaceae (rue family). East Indian or Ceylon satinwood is the yellowish or dark-brown heartwood of Chloroxylon swietenia.
The lustrous, fine-grained, usually figured wood is used for furniture, cabinetwork, veneers, and backs of brushes. West Indian satinwood, sometimes called yellow wood, is considered superior. It is the golden yellow, lustrous, even-grained wood found in the Florida Keys and the West Indies.
It has long been valued for furniture. It is also used for musical instruments, veneers, and other purposes. Satinwood is classified in the division Magnoliophyta, class Magnoliopsida, order Sapindales, family Rutaceae.
Our reference: 08881
Please feel free to email or call us (+44 20 8809 9605) to arrange a viewing in our North London warehouse.
Shipping:
We ship worldwide and deliver to Mainland UK addresses free of charge.
A shipping cost to all other destinations must be requested prior to purchase.
To request a shipping quote for the items in your cart, please click HERE.
Delivery and return policy:
We require that someone be home on the agreed delivery day if applicable, otherwise a redelivery fee will apply.
In accordance with Distance Selling Regulations, we offer a 14-day money back guarantee if you are not satisfied with the item.
The item must be returned in its original packaging and condition.
Unless the item is not as described in a material way, the buyer is responsible for return shipping expenses.
Buyers are fully responsible for any customs duties or local taxes that may be incurred on items sent outside of the European Union.