Antique Brass Inlaid Goncalo Alves Musical Boardroom Clock 19th C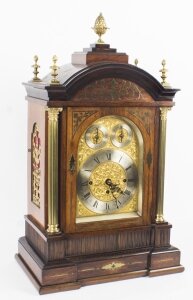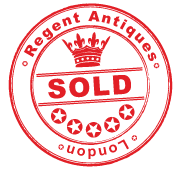 For weekly notifications of new arrivals in your categories of interest please click HERE.
An impressive brass inlaid goncalo alves musical boardroom clock with triple fusee movement, late 19th century in date.

The gilded brass arched dial with decorative floral and foliate engraving. It has a 7 3/8 inch silvered chapter ring and silvered Chime/Silent and Cambridge Chimes/Chime on 8 Bells, subsidiary dials to the arch.

The substantial engine turned three chain fusée movement with anchor escapement and pendulum locking chiming the quarters on eight bells and also chiming the hours on a large gong.

The stunning breakfront case with fluted frieze and ormolu Corinthian columns. The front is intricately inlaid in brass with stylised foliate decoration, spandrels and stars, the sides have gilt brass caryatid and foliate grilles. The case is surmounted with a beautiful rounded arched cornice with a large central brass pineapple finial and four further flaming finials to the corners.

It keeps really good time and is delightful to look at.

Condition:
In excellent condition, please see photos for confirmation.


Dimensions in cm:
Height 76 x Width 45 x Depth 28
Dimensions in inches:
Height 2 feet, 6 inches x Width 1 foot, 6 inches x Depth 11 inches
Gonçalo alves is a hardwood (from the Portuguese name, Gonçalo Alves). It is sometimes referred to as tigerwood — a name that underscore the wood's often dramatic, contrasting color scheme, that some compare to rosewood.

While the sapwood is very light in color, the heartwood is a sombre brown, with dark streaks that give it a unique look. The wood's color deepens with exposure and age and even the plainer-looking wood has a natural luster.

Two species are usually listed as sources for gonçalo alves: Astronium fraxinifolium and Astronium graveolens, although other species in the genus may yield similar wood; the amount of striping that is present may vary.

In the high tropical forests of Central and South America, well-drained soils furnish nutrients for a variety of dense, durable hardwoods sought for maritime use, heavyconstruction, and furniture. The Spanish began harvesting in Latin American forests in the early 1500s to provide timber for boatbuilding and repair. By the early 1900s, however, steel ships had replaced wooden ones, and the interest in tropical forests by both Europeans and Americans shifted to appearance-grade woods for furniture.

Although history fails to provide us with a shopping list of species from either harvest period, it's probable that the wood we know today as goncalo alves has always been sought. That's because goncalo alves, considered one of the most beautiful of tropical woods, has a tough reputation, too. Strong and durable, it's used for construction in its homeland and secondarily for fine furniture. Woodworkers elsewhere treasure the wood for decorative items and veneer accents.


Ormolu - (from French 'or moulu', signifying ground or pounded gold) is an 18th-century English term for applying finely ground, high-carat gold in a mercury amalgam to an object of bronze.The mercury is driven off in a kiln leaving behind a gold-coloured veneer known as 'gilt bronze'.
The manufacture of true ormolu employs a process known as mercury-gilding or fire-gilding, in which a solution of nitrate of mercury is applied to a piece of copper, brass, or bronze, followed by the application of an amalgam of gold and mercury. The item was then exposed to extreme heat until the mercury burned off and the gold remained, adhered to the metal object.
No true ormolu was produced in France after around 1830 because legislation had outlawed the use of mercury. Therefore, other techniques were used instead but nothing surpasses the original mercury-firing ormolu method for sheer beauty and richness of colour. Electroplating is the most common modern technique. Ormolu techniques are essentially the same as those used on silver, to produce silver-gilt (also known as vermeil).

The Westminster Quarters is the most common name for a melody used by a set of clock bells to chime on each quarter hour. The number of chime sets matches the number of quarter hours that have passed. It is also known as the Westminster Chimes, or the Cambridge Chimes from its place of origin, the church of St Mary the Great, Cambridge.

This chime is traditionally, though without substantiation, believed to be a set of variations on the four notes that make up the fifth and sixth measures of "I know that my Redeemer liveth" from Handel's Messiah. This is why the chime is also played by the bells of the so-called 'Red Tower' in Halle, the native town of Handel.

It was written in 1793 for a new clock in St Mary the Great, the University Church in Cambridge. There is some doubt over exactly who composed it: Revd Dr Joseph Jowett,Regius Professor of Civil Law, was given the job, but he was probably assisted by either Dr John Randall (1715–99), who was the Professor of Music from 1755, or his brilliant undergraduate pupil, William Crotch (1775-1847).

In the mid-19th century the chime was adopted by the clock tower at the Palace of Westminster (where Big Ben hangs), whence its fame spread. It is now possibly the most commonly used chime for striking clocks. According to the church records of Trinity Episcopal Church (Williamsport, Pennsylvania), this chime sequence was incorporated into a tower clock mechanism by the E. Howard & Co., Boston, MA. The clock and chime in Trinity's steeple base was dedicated in December 1875. It holds the distinction of being the first tower clock in the United States to sound the Cambridge Quarters.
Angelica Kauffman, RA (1741 - 1807)
was a Swiss-born Austrian Neoclassical painter who had a successful career in London and Rome. Though born as "Kauffmann", Kauffman is the preferred spelling of her name in English; it is the form she herself used most in signing her correspondence, documents and paintings.
While Kauffman produced many types of art, she identified herself primarily as a history painter, an unusual designation for a woman artist in the 18th century. History painting, was considered the most elite and lucrative category in academic painting during this time period. Under the direction of Sir Joshua Reynolds, the Royal Academy made a strong effort to promote history painting to a native audience who were more interested in commissioning and buying portraits and landscapes.
Despite the popularity that Kauffman enjoyed in British society and her success as an artist, she was disappointed by the relative apathy that the British had towards history painting. Ultimately she left Britain for the continent, where history painting was better established, held in higher esteem and patronized.
The works of Angelica Kauffman have retained their reputation. By 1911, rooms decorated with her work were still to be seen in various quarters. At Hampton Court was a portrait of the duchess of Brunswick; in the National Portrait Gallery, a self-portrait. There were other pictures by her at Paris, at Dresden, in the Hermitage at St Petersburg, in the Alte Pinakothek atMunich, in Kadriorg Palace, Tallinn (Estonia).
Satinwood
is a hard and durable wood with a satinlike sheen, much used in cabinetmaking, especially in marquetry. It comes from two tropical trees of the family Rutaceae (rue family). East Indian or Ceylon satinwood is the yellowish or dark-brown heartwood of Chloroxylon swietenia.
The lustrous, fine-grained, usually figured wood is used for furniture, cabinetwork, veneers, and backs of brushes. West Indian satinwood, sometimes called yellow wood, is considered superior. It is the golden yellow, lustrous, even-grained wood found in the Florida Keys and the West Indies.
It has long been valued for furniture. It is also used for musical instruments, veneers, and other purposes. Satinwood is classified in the division Magnoliophyta, class Magnoliopsida, order Sapindales, family Rutaceae.
Our reference: 08837