Antique 6 Ft Gothic-style Suit of Armour & Halberd 19th C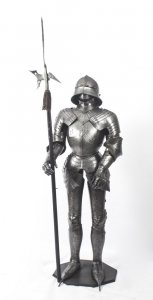 Click on image to zoom
For weekly notifications of new arrivals in your categories of interest please click HERE.
Our London showrooms
Open Mon to Fri 10am - 5pm
Open Sat 30th March 10am - 4pm
This is a majestic and highly decorative 6ft handcrafted cast iron suit of 16th Century Gothic-style armour dating from the mid 19th century.

The articulated suit is complete with an oversized halberd, which is a combined spear and battleaxe, and rests on an octagonal iron base.

It features signature modelling of curves, fluting and ridges to enhance the strength of the armour.

This is an incredible quality suit of armour and the engraved decoration has been accomplished bya very skilled artisan.

Add a dramatic touch to any room with this amazing suit of armour.

Condition:
In excellent condition, please see photos for confirmation.
Dimensions in cm:
Height 223 x Width 66 x Depth 68 - To top of halberd
Height 182 x Width 66 x Depth 68 - Suit of aromour
Dimensions in inches:
Height 7 feet, 4 inches x Width 2 feet, 2 inches x Depth 2 feet, 3 inches - To top of halberd
Height 6 feet x Width 2 feet, 2 inches x Depth 2 feet, 3 inches - Suit of aromour
Gothic plate armour (German: Gotischer Plattenpanzer) is the term for the type of steel plate armour made in the Holy Roman Empire during the 15th century.

While the term "Gothic" in art history covers the 12th to 15th centuries, Gothic plate armour develops only during 1420–1440s, when the technological development of armour reached the stage where full plate armour (including movable joints) was made, and national styles of "white armour" began to emerge, specifically German ("Gothic") and Italian. Centers of armour production in the period included Augsburg, Nuremberg and Landshut.

The Gothic style of plate armour peaked in type known as Maximilian armour, produced during 1515–1525. By this time, full plate armour had become mostly limited to elaborate "parade armour" not intended for battlefield use, while for practical use, half-armour (Halbharnisch) became increasingly common, eventually giving rise to the early modern cuirass.

In to the classification due to Oakeshott (1980), High Gothic armour was worn during the later 15th century, a transitional type called Schott-Sonnenberg style was current during c. 1500 to 1515, and Maximilian armour proper during 1515 to 1525.

Gothic armour was often combined with a Gothic sallet, which included long and sharp rear-plate that protected the back of the neck and head. Maximilian armour of the early 16th century is characterized by rounder and more curved forms, and their ridges were narrower, parallel to each other and covered the entire armour.

Methods of single combat in this type of armour are treated in the German fencing manuals of the period, under the term Harnischfechten ("armoured combat").

Angelica Kauffman, RA (1741 - 1807)
was a Swiss-born Austrian Neoclassical painter who had a successful career in London and Rome. Though born as "Kauffmann", Kauffman is the preferred spelling of her name in English; it is the form she herself used most in signing her correspondence, documents and paintings.
While Kauffman produced many types of art, she identified herself primarily as a history painter, an unusual designation for a woman artist in the 18th century. History painting, was considered the most elite and lucrative category in academic painting during this time period. Under the direction of Sir Joshua Reynolds, the Royal Academy made a strong effort to promote history painting to a native audience who were more interested in commissioning and buying portraits and landscapes.
Despite the popularity that Kauffman enjoyed in British society and her success as an artist, she was disappointed by the relative apathy that the British had towards history painting. Ultimately she left Britain for the continent, where history painting was better established, held in higher esteem and patronized.
The works of Angelica Kauffman have retained their reputation. By 1911, rooms decorated with her work were still to be seen in various quarters. At Hampton Court was a portrait of the duchess of Brunswick; in the National Portrait Gallery, a self-portrait. There were other pictures by her at Paris, at Dresden, in the Hermitage at St Petersburg, in the Alte Pinakothek atMunich, in Kadriorg Palace, Tallinn (Estonia).
Satinwood
is a hard and durable wood with a satinlike sheen, much used in cabinetmaking, especially in marquetry. It comes from two tropical trees of the family Rutaceae (rue family). East Indian or Ceylon satinwood is the yellowish or dark-brown heartwood of Chloroxylon swietenia.
The lustrous, fine-grained, usually figured wood is used for furniture, cabinetwork, veneers, and backs of brushes. West Indian satinwood, sometimes called yellow wood, is considered superior. It is the golden yellow, lustrous, even-grained wood found in the Florida Keys and the West Indies.
It has long been valued for furniture. It is also used for musical instruments, veneers, and other purposes. Satinwood is classified in the division Magnoliophyta, class Magnoliopsida, order Sapindales, family Rutaceae.
Our reference: 08717
Please feel free to email or call us (+44 20 8809 9605) to arrange a viewing in our North London warehouse.
Shipping:
We ship worldwide and deliver to Mainland UK addresses free of charge.
A shipping cost to all other destinations must be requested prior to purchase.
To request a shipping quote for the items in your cart, please click HERE.
Delivery and return policy:
We require that someone be home on the agreed delivery day if applicable, otherwise a redelivery fee will apply.
In accordance with Distance Selling Regulations, we offer a 14-day money back guarantee if you are not satisfied with the item.
The item must be returned in its original packaging and condition.
Unless the item is not as described in a material way, the buyer is responsible for return shipping expenses.
Buyers are fully responsible for any customs duties or local taxes that may be incurred on items sent outside of the European Union.