Antique Pair George III 3Light Candelabra Matthew Boulton 1784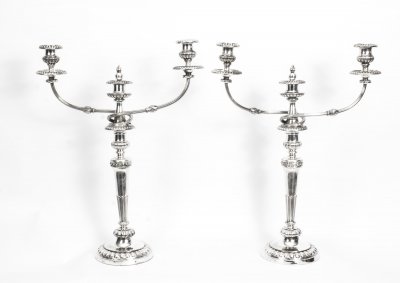 Click on image to zoom
For weekly notifications of new arrivals in your categories of interest please click HERE.
Our London showrooms
Open Mon to Fri 10am - 5pm
Open Sat 23rd June 10am - 4pm
This is a stunning pair of antique English Victorian Old Sheffield silver plate, three light, two-branch table candelabra, circa 1784 in date, and bearing the makers mark of the renowned silversmith
Matthew Boulton.
The candelabra feature detachable sconces and have beautiful cast beaded and gadrooned decoration to the braches, columns and bases.
The attention to detail is absolutely fantastic and they are certain to attract attention wherever they are placed.
Condition:
In excellent condition with clear makers marks and no dings, dents or signs of repair. Please see photos for confirmation.
Dimensions in cm:
Height 55 x Width 42 x Depth 16
Dimensions in inches:
Height 1 foot, 10 inches x Width 1 foot, 4 inches x Depth 6 inches
Matthew Boulton
Boulton was not a "goldsmith" or a "silversmith" in the accepted sense, yet for his achievements and services to the craft of goldsmithing he is fully worthy of inclusion in the list of great English goldsmiths.
Matthew Boulton was born in Birmingham on 3 September 1728. His father Matthew Boulton (senior) was a "toy maker" and silver stamper specialized in the production of shoe-buckles.
Boulton junior was taken into partnership in 1749 and was left in sole charge of the business after the death of his father in 1759.
Boulton had the ambition to establish a manufacturing complex where craftsmen in the various branches of the "toy" trade would work together under one roof, enabling him to reap both wholesale and retail profits. In 1761 he realized his project purchasing a one-hundred- year-lease of the "Soho" estate at Handswoth Heath (two miles from Snow Hilton the Wolverhampton Road).
In 1762 Boulton took into unofficial partnership John Fothergill who would act as a travelling salesman to advertise his wares and the factory moved to Soho in the same year.
The partnership concentrated in the production of steel "toys" a little later on buttons and buckles made in a variety of substances, including , of course, silver. In 1762 Soho factory began to produce articles in "Sheffield" plate and one of the first to adopt "Sterling silver thread" edging which prevent to reveal the underlying copper.
Boulton soon became the largest manufacturer of "Sheffield plate" of the country expanding the business of Soho manufactory in the production of bijouterie, objects d'art and de virtue, in ormolu, pinchbeck and shell, and in clocks.
In 1765 Boulton began the manufacture of pieces in solid silver, being obliged to send every piece of plate to Chester to be marked (Chester was the nearest assay office, 72 miles away from Birmingham). Boulton was the promoter a petition obtaining in 1773 the Royal Assent to assay silver in Birmingham (the same was for Sheffield).
Boulton & Fothergill entered their joint mark consisting of their initials, MB before IF. After the death of Fothergill (1782) Boulton punched his plate with his initials alone.
When manufacturers of plated ware were permitted to register their marks at the Assay Office in Sheffield (1784), Boulton registered his mark of "twin suns" under the name Boulton M. & Co.
The most important designers for Boulton plate in the neo-classic taste were Robert Adams and James Wyatt.
Matthew Boulton died on 17 August 1809.
The mark MB continued to be used by Matthew Boulton Plate Co until 1832.
Old Sheffield Plate - or 'fused plate' as it is sometimes known, was the first commercially viable method of plating metal.
The material was accidentally invented by Thomas Boulsover, of Sheffield's Cutlers Company, in 1743. While trying to repair the handle of a customer's decorative knife, he heated it too much and the silver started to melt. When he examined the damaged handle, he noticed that the silver and copper had fused together very strongly. Experiments showed that the two metals behaved as one when he tried to reshape them, even though he could clearly see two different layers.
Boulsover set up in business, funded by Strelley Pegge of Beauchief, and carried out further experiments in which he put a thin sheet of silver on a thick ingot of copper and heated the two together to fuse them. When the composite block was hammered or rolled to make it thinner, the two metals were reduced in thickness at similar rates. Using this method, Boulsover was able to make sheets of metal which had a thin layer of silver on the top surface and a thick layer of copper underneath. When this new material was used to make buttons, they looked and behaved like silver buttons but were a fraction of the cost.
The technique Boulsover developed was to sandwich an ingot of copper between two plates of silver, tightly bind it with wire, heat it in a furnace and then mill it out in to sheet, from which objects could be made.
Angelica Kauffman, RA (1741 - 1807)
was a Swiss-born Austrian Neoclassical painter who had a successful career in London and Rome. Though born as "Kauffmann", Kauffman is the preferred spelling of her name in English; it is the form she herself used most in signing her correspondence, documents and paintings.
While Kauffman produced many types of art, she identified herself primarily as a history painter, an unusual designation for a woman artist in the 18th century. History painting, was considered the most elite and lucrative category in academic painting during this time period. Under the direction of Sir Joshua Reynolds, the Royal Academy made a strong effort to promote history painting to a native audience who were more interested in commissioning and buying portraits and landscapes.
Despite the popularity that Kauffman enjoyed in British society and her success as an artist, she was disappointed by the relative apathy that the British had towards history painting. Ultimately she left Britain for the continent, where history painting was better established, held in higher esteem and patronized.
The works of Angelica Kauffman have retained their reputation. By 1911, rooms decorated with her work were still to be seen in various quarters. At Hampton Court was a portrait of the duchess of Brunswick; in the National Portrait Gallery, a self-portrait. There were other pictures by her at Paris, at Dresden, in the Hermitage at St Petersburg, in the Alte Pinakothek atMunich, in Kadriorg Palace, Tallinn (Estonia).
Satinwood
is a hard and durable wood with a satinlike sheen, much used in cabinetmaking, especially in marquetry. It comes from two tropical trees of the family Rutaceae (rue family). East Indian or Ceylon satinwood is the yellowish or dark-brown heartwood of Chloroxylon swietenia.
The lustrous, fine-grained, usually figured wood is used for furniture, cabinetwork, veneers, and backs of brushes. West Indian satinwood, sometimes called yellow wood, is considered superior. It is the golden yellow, lustrous, even-grained wood found in the Florida Keys and the West Indies.
It has long been valued for furniture. It is also used for musical instruments, veneers, and other purposes. Satinwood is classified in the division Magnoliophyta, class Magnoliopsida, order Sapindales, family Rutaceae.
Our reference: 08468
Please feel free to email or call us (+44 20 8809 9605) to arrange a viewing in our North London warehouse.
Shipping:
We ship worldwide and deliver to Mainland UK addresses free of charge.
A shipping cost to all other destinations must be requested prior to purchase.
To request a shipping quote for the items in your cart, please click HERE.
Delivery and return policy:
We require that someone be home on the agreed delivery day if applicable, otherwise a redelivery fee will apply.
In accordance with Distance Selling Regulations, we offer a 14-day money back guarantee if you are not satisfied with the item.
The item must be returned in its original packaging and condition.
Unless the item is not as described in a material way, the buyer is responsible for return shipping expenses.
Buyers are fully responsible for any customs duties or local taxes that may be incurred on items sent outside of the European Union.