Antique Pair Berlin Plaques of 2 Maidens in Gilt Florentine Frames C1885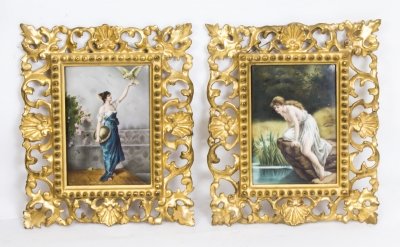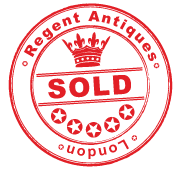 For weekly notifications of new arrivals in your categories of interest please click HERE.
This is a finely painted pair of Berlin Porcelain plaques in their stunning original antique carved giltwood Florentine frames, C1885 in date.
One after P. Thumann, depicting a winged nymph kneeling beside a woodland pond and the other a classically dressed maiden with a cockatoo,
A very similar plaque to the Thumann realized $13,145 at Christie's New York Rockefeller Plaza, sale 1426 Lot 57 on 26 October 2004.
Condition:
The plaques and the gilded frames all in excellent condition, please see photos for confirmation.
Dimensions in cm:
Height 23 x Width 19 x Depth 2 - Frame
Height 14 x Width 10 - Plaque
Dimensions in inches:
Height 9 inches x Width 7 inches x Depth 1 inch - Frame
Height 5 inches x Width 4 inches - Plaque
As most of you know, psyche is the Greek word for soul. It's also the Greek word for butterfly. If you have a protagonist in a story whose name is Psyche, you might expect that she will go through a major transition and crisis. Will she survive it? Will she come through and be transformed, or will she die? That's one way of looking at the Psyche myth. Those of you who heard Robert Bly's White Bear story on the first day of this conference heard a variation of the Eros and Psyche myth.

Aphrodite gives her four tasks that she must learn to get through.
The third task was the creative task: Psyche is told that she must fill a crystal flask with water from a stream that runs in a continual cycle from the River Styx to the highest crag. The great water of life, the water of creativity, cycles. It is archetypal. It moves and moves and moves, and yet each person needs to seize some of that fluidity and give it shape. Some of that is a conscious desire to capture archetypal energies, visions, emotions and give them shape through your own personality, which is relative to the great expanse of the archetypal world of gods and goddesses. It is symbolically fragile, and yet this is the task.
Again Psyche looks at the task. She sees this river that is carved into the side of the mountain. It goes down to the River Styx and then rises up through a spring to come up to the top again and down the face, etching its way into the mountain. If that isn't bad enough, there are snake-like dragons on either side warning, "Stay away! Stay away!" The water itself is hissing. Psyche again thinks, "Too much! I can't do it!" when another symbol comes to her aid.
Angelica Kauffman, RA (1741 - 1807)
was a Swiss-born Austrian Neoclassical painter who had a successful career in London and Rome. Though born as "Kauffmann", Kauffman is the preferred spelling of her name in English; it is the form she herself used most in signing her correspondence, documents and paintings.
While Kauffman produced many types of art, she identified herself primarily as a history painter, an unusual designation for a woman artist in the 18th century. History painting, was considered the most elite and lucrative category in academic painting during this time period. Under the direction of Sir Joshua Reynolds, the Royal Academy made a strong effort to promote history painting to a native audience who were more interested in commissioning and buying portraits and landscapes.
Despite the popularity that Kauffman enjoyed in British society and her success as an artist, she was disappointed by the relative apathy that the British had towards history painting. Ultimately she left Britain for the continent, where history painting was better established, held in higher esteem and patronized.
The works of Angelica Kauffman have retained their reputation. By 1911, rooms decorated with her work were still to be seen in various quarters. At Hampton Court was a portrait of the duchess of Brunswick; in the National Portrait Gallery, a self-portrait. There were other pictures by her at Paris, at Dresden, in the Hermitage at St Petersburg, in the Alte Pinakothek atMunich, in Kadriorg Palace, Tallinn (Estonia).
Satinwood
is a hard and durable wood with a satinlike sheen, much used in cabinetmaking, especially in marquetry. It comes from two tropical trees of the family Rutaceae (rue family). East Indian or Ceylon satinwood is the yellowish or dark-brown heartwood of Chloroxylon swietenia.
The lustrous, fine-grained, usually figured wood is used for furniture, cabinetwork, veneers, and backs of brushes. West Indian satinwood, sometimes called yellow wood, is considered superior. It is the golden yellow, lustrous, even-grained wood found in the Florida Keys and the West Indies.
It has long been valued for furniture. It is also used for musical instruments, veneers, and other purposes. Satinwood is classified in the division Magnoliophyta, class Magnoliopsida, order Sapindales, family Rutaceae.
Our reference: 08434