Antique Albert Ernst Carrier-Belleuse "La Liseuse" gilt bronze figure Circa 1880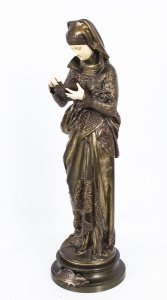 Click on image to zoom
For weekly notifications of new arrivals in your categories of interest please click HERE.
Our London showrooms
Open Mon to Fri 10am - 5pm
Open Sat 30th March 10am - 4pm
Albert Ernst Carrier-Belleuse "La Liseuse" gilt bronze figure of a woman, circa 1880 in date.
La Liseuse translates as " The Reader" and is a figure dressed in a very detailed Renaissance costume whilst reading, she has a delicately carved ivory face and hands and is raised on a circular footed bronze base.
The base is signed in the cast 'A. CARRIER-BELLEUSE' and also has a gold laquered 'Grand Prix du Salon' inscription plaque
Auctions and Works on Public Display

Christie's Interiors - Style & Spirit 16 September 2015, London, South Kensington
Price realised GBP 7,500 + 30%

http://www.christies.com/LotFinder/lot_details.aspx?from=salesummary&pos=2&intObjectID=5926823

Sotheby's 19th and 20th century sculpture 20 May 20175
Price realised 6,250 GBP +30%

http://www.sothebys.com/fr/auctions/ecatalogue/2015/19th-20th-century-sculpture-l15230/lot.79.html

Pediment sculpture of Abundance, Pavillon de Flore, South façade of the Great Galerie, Louvre palace, Paris, crica 1863
Caryatids themed on the four seasons, Vichy Opera, for architect Charles Badger, 1865
Architectural sculpture for the Tribunal de commerce de Paris (Commercial Court of Paris), on the Île de la Cité, for architect Antoine-Nicolas Bailly, completed 1865
A silvered bronze chimney-piece for the Hôtel de la Païva, Paris, 1866
Monument to André Masséna, Nice, 1869
Architectural work at the Brussels Stock Exchange, Brussels, circa 1870
Mary Queen of Scots, Private Collection, ca. 1870
Two elaborate multifigure torchères for the base of grand staircase, Palais Garnier (Paris Opera), Pairs, 1873[4]
Tomb of Belgian photographer Louis Ghémar, Laeken Cemetery, Brussels, 1873
Architectural work for the Thé tre de la Renaissance, Paris, for architect Charles de Lalande, 1873
Sea Nymph for the fountain at the Place du The tre-Français, Paris, for architect Gabriel Davioud, 1874
Four Seasons fountain, Hotel de Ville, Fleurance
Mausoleum of José de San Martín, Buenos Aires Metropolitan Cathedral, Buenos Aires
Equestrian statue of Mihai Viteazul, University Square, Bucharest, Romania
Equestrian statue of Manuel Belgrano, Plaza de Mayo Square, Buenos Aires, Argentina
Equestrian statue of Bernardo O'Higgins, Alameda, Santiago de Chile, Chile

It is beautifully executed and as such would make a lovely addition to your collection.
Condition:
In excellent condition, please see photos for confirmation of condition.
Dimensions in cm:
Height 40 x Width 12 x Depth 12
Dimensions in inches:
Height 1 foot, 4 inches x Width 5 inches x Depth 5 inches
Albert-Ernest Carrier-Belleuse (born Albert-Ernest Carrier de Belleuse; 12 June 1824 – 4 June 1887) was a French sculptor. He was one of the founding members of the Société Nationale des Beaux-Arts, and was made an officer of the Legion of Honour.

Carrier-Belleuse was born on 12 June 1824 at Anizy-le-Ch teau, Aisne, France. He began his training as a goldsmith's apprentice. Carrier-Belleuse was a student of David d'Angers and briefly studied at the École des Beaux-Arts. His career is distinguished by his versatility and his work outside France: in England between 1850 and 1855 working for Mintons , and in Brussels around 1871. His name is perhaps best known because Auguste Rodin worked as his assistant between 1864 and 1870. The two travelled to Brussels in 1871, and by some accounts Rodin assisted Carrier-Belleuse's architectural sculpture for the Brussels Stock Exchange.
Sculpture of Urania by Carrier-Belleuse atop conical mystery clock by Eugène Farcot. Made for Great London Exhibition of 1862
Carrier-Belleuse made many terra cotta pieces, the most famous of which may be The Abduction of Hippodameia depicting the Greek mythological scene of a centaur kidnapping Hippodameia on her wedding day. He was also made artistic director at the Manufacture nationale de Sèvres in 1876.
Société Nationale des Beaux-Arts

In 1862 Carrier-Belleuse was one of the founding members of the Société Nationale des Beaux-Arts, and was made an officer of the Légion d'honneur. The bronzes he executed prior to 1868 were always signed "Carrier" or "A. Carrier", but after 1868 his signature was changed to "Carrier-Belleuse".
His work encompassed all manner of sculptural subjects and materials, and his naturalism incorporated a breadth of styles: unembellished Realism, neo-Baroque exuberance, and Rococo elegance.
Angelica Kauffman, RA (1741 - 1807)
was a Swiss-born Austrian Neoclassical painter who had a successful career in London and Rome. Though born as "Kauffmann", Kauffman is the preferred spelling of her name in English; it is the form she herself used most in signing her correspondence, documents and paintings.
While Kauffman produced many types of art, she identified herself primarily as a history painter, an unusual designation for a woman artist in the 18th century. History painting, was considered the most elite and lucrative category in academic painting during this time period. Under the direction of Sir Joshua Reynolds, the Royal Academy made a strong effort to promote history painting to a native audience who were more interested in commissioning and buying portraits and landscapes.
Despite the popularity that Kauffman enjoyed in British society and her success as an artist, she was disappointed by the relative apathy that the British had towards history painting. Ultimately she left Britain for the continent, where history painting was better established, held in higher esteem and patronized.
The works of Angelica Kauffman have retained their reputation. By 1911, rooms decorated with her work were still to be seen in various quarters. At Hampton Court was a portrait of the duchess of Brunswick; in the National Portrait Gallery, a self-portrait. There were other pictures by her at Paris, at Dresden, in the Hermitage at St Petersburg, in the Alte Pinakothek atMunich, in Kadriorg Palace, Tallinn (Estonia).
Satinwood
is a hard and durable wood with a satinlike sheen, much used in cabinetmaking, especially in marquetry. It comes from two tropical trees of the family Rutaceae (rue family). East Indian or Ceylon satinwood is the yellowish or dark-brown heartwood of Chloroxylon swietenia.
The lustrous, fine-grained, usually figured wood is used for furniture, cabinetwork, veneers, and backs of brushes. West Indian satinwood, sometimes called yellow wood, is considered superior. It is the golden yellow, lustrous, even-grained wood found in the Florida Keys and the West Indies.
It has long been valued for furniture. It is also used for musical instruments, veneers, and other purposes. Satinwood is classified in the division Magnoliophyta, class Magnoliopsida, order Sapindales, family Rutaceae.
Our reference: 08392WI
Please feel free to email or call us (+44 20 8809 9605) to arrange a viewing in our North London warehouse.
Shipping:
We ship worldwide and deliver to Mainland UK addresses free of charge.
A shipping cost to all other destinations must be requested prior to purchase.
To request a shipping quote for the items in your cart, please click HERE.
Delivery and return policy:
We require that someone be home on the agreed delivery day if applicable, otherwise a redelivery fee will apply.
In accordance with Distance Selling Regulations, we offer a 14-day money back guarantee if you are not satisfied with the item.
The item must be returned in its original packaging and condition.
Unless the item is not as described in a material way, the buyer is responsible for return shipping expenses.
Buyers are fully responsible for any customs duties or local taxes that may be incurred on items sent outside of the European Union.