Vintage Large Taxidermy Zebra Skin Rug with Felt Backing c 1970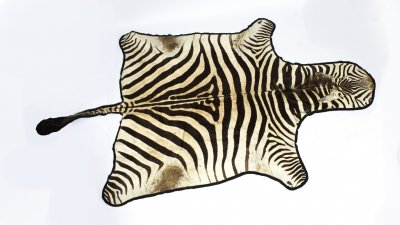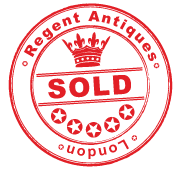 For weekly notifications of new arrivals in your categories of interest please click HERE.
A lovely large taxidermy Burchell's Zebra skin rug, circa 1970.
The zebra (Equus quagga burchelli), has a flat head, preserved on a black baize backing.
Please note: as there are approximately 240,000 Burchill's Zebra in the wild, this species is not on the endangered list and does not require a CITES permit for export.
The stripes are truly breathtaking and it add an exotic touch that will enhance any room in which it is placed.
Condition:
In excellent condition, please see photos for confirmation.
Dimensions in cm:
Height 2 x Width 290 x Depth 170
Dimensions in inches:
Height 1 inch x Width 9 feet, 6 inches x Depth 5 feet, 7 inches
Zebra Skin Rug-Equus Burchelli felt backing" The plains zebra (Equus quagga, formerly Equus burchellii), also known as the common zebra or Burchell's zebra, or locally as the "quagga" (not to be confused with the extinct subspecies), is the most common and geographically widespread species of zebra. It ranges from the south of Ethiopia through East Africa to as far south as Botswana and eastern South Africa. The plains zebra remains common in game reserves.

Subspecies include the extinct quagga and six recognised extant subspecies, though there is great variation in coat patterns between individuals. The striping pattern is unique among ungulates in the region, and its functions are disputed. Suggested functions include crypsis, forms of motion camouflage, social signaling and recognition, and discouraging biting flies.

The plains zebra's range is fragmented, but spans much of southern and eastern Africa south of the Sahara. Its habitat is generally but not exclusively treeless grasslands and savanna woodlands, both tropical and temperate. They generally avoid desert, dense rainforest and permanent wetlands, and rarely stray more than 30 kilometres from a water source. Predators of the zebra include lions, spotted hyenas, leopards, cheetahs and wild dogs.

The plains zebra is a highly social species, forming harems with a single stallion, several mares and their recent offspring; there are also bachelor groups. Groups may come together to form herds. The animals keep watch for predators rather than attempting to hide; they bark or snort when they see a predator, and the harem stallion attacks predators to defend his harem. The species population is stable and not endangered, though some populations such as in Tanzania have declined sharply.
Angelica Kauffman, RA (1741 - 1807)
was a Swiss-born Austrian Neoclassical painter who had a successful career in London and Rome. Though born as "Kauffmann", Kauffman is the preferred spelling of her name in English; it is the form she herself used most in signing her correspondence, documents and paintings.
While Kauffman produced many types of art, she identified herself primarily as a history painter, an unusual designation for a woman artist in the 18th century. History painting, was considered the most elite and lucrative category in academic painting during this time period. Under the direction of Sir Joshua Reynolds, the Royal Academy made a strong effort to promote history painting to a native audience who were more interested in commissioning and buying portraits and landscapes.
Despite the popularity that Kauffman enjoyed in British society and her success as an artist, she was disappointed by the relative apathy that the British had towards history painting. Ultimately she left Britain for the continent, where history painting was better established, held in higher esteem and patronized.
The works of Angelica Kauffman have retained their reputation. By 1911, rooms decorated with her work were still to be seen in various quarters. At Hampton Court was a portrait of the duchess of Brunswick; in the National Portrait Gallery, a self-portrait. There were other pictures by her at Paris, at Dresden, in the Hermitage at St Petersburg, in the Alte Pinakothek atMunich, in Kadriorg Palace, Tallinn (Estonia).
Satinwood
is a hard and durable wood with a satinlike sheen, much used in cabinetmaking, especially in marquetry. It comes from two tropical trees of the family Rutaceae (rue family). East Indian or Ceylon satinwood is the yellowish or dark-brown heartwood of Chloroxylon swietenia.
The lustrous, fine-grained, usually figured wood is used for furniture, cabinetwork, veneers, and backs of brushes. West Indian satinwood, sometimes called yellow wood, is considered superior. It is the golden yellow, lustrous, even-grained wood found in the Florida Keys and the West Indies.
It has long been valued for furniture. It is also used for musical instruments, veneers, and other purposes. Satinwood is classified in the division Magnoliophyta, class Magnoliopsida, order Sapindales, family Rutaceae.
Our reference: 08307