Vintage Pair Birdseye Maple Art Deco Biedermeier Armchairs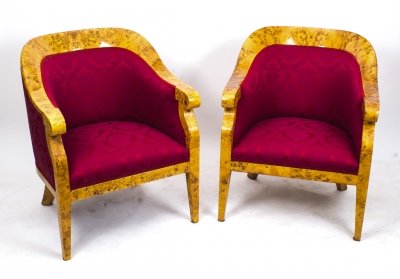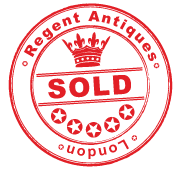 For weekly notifications of new arrivals in your categories of interest please click HERE.
We are very pleased to be able to present this wonderful pair of vintage Art Deco armchairs sprinkled with just a hint of the Biedermeier manner, dating from the late 20th Century.
These armchairs are veneered in the most wonderful birdseye maple and have been reupholstered in a luxury burgundy damask fabric.
There is no mistaking their unique quality and design, which is guaranteed to make them a talking point in your home. It is really unusual to find such a stylish blend of Art Deco luxury and Biedermeier style minimalism all rolled-up into one.
Condition:
These Art Deco Biedermeier chairs are in exceptional condition having been beautifully renewed and reupholstered in our workshops, please see photos for verification.
More about Biedermeier
Biedermeier is an creative style that was popular in Central Europe from 1815 (the year of the Congress of Vienna which took place at the end of the Napoleonic Wars) to 1848 when Europe was swept by a number of popular revolutions that in turn changed the aesthetic of the time. The term is chiefly used to denote styles that blossomed in literature and music, interior design and the visual arts. Based on utilitarian principles, it was a particularly fashionable type of furniture design in Germany between 1815 and 1848, but it then spread into Austria and Scandinavia.
The Biedermeier style was a simplification of the influential French Empire style of Napoleon I and the initial design ethic was one of clean lines and minimal decoration. This was a reaction against what was considered to be over decorative 'Romanticism' and the heavy dependence on ancient Egyptian, Greek and Roman designs. However, as the period progressed, the style modified to incorporate embellishment, as the rising middle classes in Europe wished to show off their increasing success and status. In keeping with its focus on utilitarian simplicity, the furniture was made from locally grown woods such as cherry, ash and oak keeping away from the expensive timbers such as imported mahogany.
The Vienna Applied Arts Museum presented an exhibition on the style in 1896 which led to a revival of Biedermeier amongst European cabinetmakers. The design remained popular until Art Deco swept the scene. Biedermeier also inspired the Bauhaus movement as they both subscribed to the notion of 'being true to the material'.
Birdseye Maple
This occurs mainly in Sugar Maple and is a very hard wood with a divergent grain structure caused by the existence of the Birdseyes. The divergent grain that makes Birdseye Maple gorgeous also makes it challenging to work. Early woodworking machines ran at low revs per minute and had only two knives per cutting head. This often produced Birdseye surfaces that were chipped and ripped. It took several hours of hand planing and scraping to get these surfaces to a high sheen.
Because of this, birdseye maple tended to only be made use of by the most skilled and able cabinetmakers. These artisans manufactured the tools and expertise to work and polish the Birdseye maple successfully, which as described above was no mean feat. As a result antique furniture made from Birdseye Maple is both rare and beautiful.
Extra Information and Viewing
We are always delighted to showcase off our wonderful Art Deco furniture items, in our North London warehouse. Simply call or email to make an visit quoting the reference number given above and one of our in-house specialists will be on hand to show you around and discuss these and any other items that you may like. As an alternative please feel free to discuss these art deco armchairs with us on the phone or by email.
Shipping, Delivery and Return
We are delighted to be able to ship these Art Deco armchairs to any destination globally, please call for a estimate before ordering the item to make sure we can fully meet your requirements. We are pleased to deliver them free of charge to any mainland UK location.
If you are not satisfied with the item we offer a 14-day money back guarantee in accordance with the Distance Selling Regulations. You will be responsible for the return shipping fees for this pair of Art Deco chairs, unless we have erroneously described the item in some material way and you do not receive what you were expecting. You must return the item in its original packaging and condition.
You are also responsible for any customs duties or local taxes that fall due outside the European Union.
Dimensions in cm:
Height 83 x Width 68 x Depth 66
Dimensions in inches:
Height 2 feet, 9 inches x Width 2 feet, 3 inches x Depth 2 feet, 2 inches
Angelica Kauffman, RA (1741 - 1807)
was a Swiss-born Austrian Neoclassical painter who had a successful career in London and Rome. Though born as "Kauffmann", Kauffman is the preferred spelling of her name in English; it is the form she herself used most in signing her correspondence, documents and paintings.
While Kauffman produced many types of art, she identified herself primarily as a history painter, an unusual designation for a woman artist in the 18th century. History painting, was considered the most elite and lucrative category in academic painting during this time period. Under the direction of Sir Joshua Reynolds, the Royal Academy made a strong effort to promote history painting to a native audience who were more interested in commissioning and buying portraits and landscapes.
Despite the popularity that Kauffman enjoyed in British society and her success as an artist, she was disappointed by the relative apathy that the British had towards history painting. Ultimately she left Britain for the continent, where history painting was better established, held in higher esteem and patronized.
The works of Angelica Kauffman have retained their reputation. By 1911, rooms decorated with her work were still to be seen in various quarters. At Hampton Court was a portrait of the duchess of Brunswick; in the National Portrait Gallery, a self-portrait. There were other pictures by her at Paris, at Dresden, in the Hermitage at St Petersburg, in the Alte Pinakothek atMunich, in Kadriorg Palace, Tallinn (Estonia).
Satinwood
is a hard and durable wood with a satinlike sheen, much used in cabinetmaking, especially in marquetry. It comes from two tropical trees of the family Rutaceae (rue family). East Indian or Ceylon satinwood is the yellowish or dark-brown heartwood of Chloroxylon swietenia.
The lustrous, fine-grained, usually figured wood is used for furniture, cabinetwork, veneers, and backs of brushes. West Indian satinwood, sometimes called yellow wood, is considered superior. It is the golden yellow, lustrous, even-grained wood found in the Florida Keys and the West Indies.
It has long been valued for furniture. It is also used for musical instruments, veneers, and other purposes. Satinwood is classified in the division Magnoliophyta, class Magnoliopsida, order Sapindales, family Rutaceae.
Our reference: 07909