Antique Pair Small Entree Dishes Joseph Rodgers C1850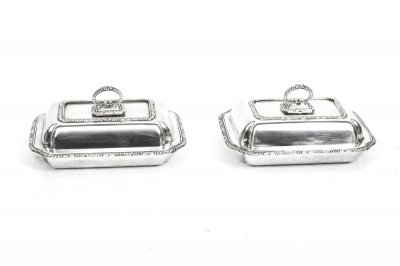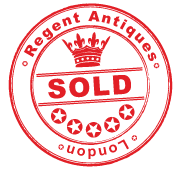 For weekly notifications of new arrivals in your categories of interest please click HERE.
This is an exquisite and rare antique pair of English silver plated entree dishes, Circa 1850 in date, and bearing the makers mark of the world renowned silversmiths Joseph Rodgers & Sons, Sheffield with their Maltese Cross and Star impressed marks.

They are of the highest quality, in excellent condition and are ready to grace your dining table.

A truly exquisite pair that would make a fine addition to any antique collection.
Condition:
In excellent condition, please see photos for confirmation of condition.
Dimensions in cm:
Height 10 x Width 21 x Depth 15
Dimensions in inches:
Height 4 inches x Width 8 inches x Depth 6 inches
Joseph Rodgers is perhaps rivalled only by George Wostenholm in terms of its importance to Sheffield cutlery and its fame around the world.
Joseph or John Rodgers operated out of a building in Hawley Croft close to location of Sheffield's present day cathedral. In 1730 what are claimed to be his two sons Maurice and Joseph took over.
The mark of The Star and Maltese Cross was originally registered in March 1682 by a Benjamin Rich. However, it is with Rodgers that this mark will forever by associated and they registered it in 1764. Around 1800, Rodgers' product range broadened from pocket knifes into razors, table cutlery and scissors and in 1821 the firm was appointed cutlers to The Royal Family for the first time.
Inspired by this prestigious title, Rodgers opened their first celebrated showroom in which they proudly exhibited their wares, including later on, arguably Rodgers two most famous knives, The Year Knife and The Norfolk Knife. The Year Knife was commenced in 1822 with a new blade being added for each year of the Christian era (the knife now contains two thousand blades). The Norfolk Knife, made for The Great Exhibition of 1851, took two years to complete and features blades with etchings of Queen Victoria, Chatsworth House and The White House amongst others. Both of these are now on proudly on display in Sheffield – The Year Knife is in The Kelham Island Industrial Museum and The Norfolk Knife is in The Cutlers Hall in the city center.
In 1860, new, even more spectacular showrooms were built and people came from as far and as wide as America and China to marvel at superb examples of Rodger's craftsmanship. Visitors of the late 1800's included King Edward VII and The Shah of Persia.
Further expansions were required in the late 1800's and more property was acquired in the area around
Norfolk Street until ultimately it would become
Sheffield's largest cutlery factory. Rodgers products were now being exported to growing export markets – Asia, Africa, the
Americas
virtually the whole world.
America
would become Rodgers largest export market and it is claimed that it was a Rodgers' hunting knife, given to Buffalo Bill by General Custer, which Bill used in his duel with Sitting Bull.
Rodgers focused on producing the finest quality knives and looked for the best in every aspect of knife production from materials to workmanship. Each knife was branded with the Star and Cross as a guarantee of its superb quality. It has been claimed that so great was Rodgers reputation for producing only the finest products that the word "Rujjus", a variation on "Rodgers" entered into the Sinhalese dialect as a general expression of superlative quality.
Joseph Rodgers' success is evident in the firm's appointment to five successive sovereigns - George IV, William IV, Queen Victoria, Edward II and George V.
Despite Royal recognition and overseas trade, the company could not escape the decline of Sheffield's cutlery industry. In the late 1900's the firm endured a tumultuous time. There were a number of changes in ownership, one of which in 1971 even brought it together with its once fierce competitor, George Wostenholm. The Egginton Group bought the rights to the name and trademarks in 1986 which meant that fine Joseph Rodgers knives would continue to be produced in Sheffield, the home of cutlery.
Angelica Kauffman, RA (1741 - 1807)
was a Swiss-born Austrian Neoclassical painter who had a successful career in London and Rome. Though born as "Kauffmann", Kauffman is the preferred spelling of her name in English; it is the form she herself used most in signing her correspondence, documents and paintings.
While Kauffman produced many types of art, she identified herself primarily as a history painter, an unusual designation for a woman artist in the 18th century. History painting, was considered the most elite and lucrative category in academic painting during this time period. Under the direction of Sir Joshua Reynolds, the Royal Academy made a strong effort to promote history painting to a native audience who were more interested in commissioning and buying portraits and landscapes.
Despite the popularity that Kauffman enjoyed in British society and her success as an artist, she was disappointed by the relative apathy that the British had towards history painting. Ultimately she left Britain for the continent, where history painting was better established, held in higher esteem and patronized.
The works of Angelica Kauffman have retained their reputation. By 1911, rooms decorated with her work were still to be seen in various quarters. At Hampton Court was a portrait of the duchess of Brunswick; in the National Portrait Gallery, a self-portrait. There were other pictures by her at Paris, at Dresden, in the Hermitage at St Petersburg, in the Alte Pinakothek atMunich, in Kadriorg Palace, Tallinn (Estonia).
Satinwood
is a hard and durable wood with a satinlike sheen, much used in cabinetmaking, especially in marquetry. It comes from two tropical trees of the family Rutaceae (rue family). East Indian or Ceylon satinwood is the yellowish or dark-brown heartwood of Chloroxylon swietenia.
The lustrous, fine-grained, usually figured wood is used for furniture, cabinetwork, veneers, and backs of brushes. West Indian satinwood, sometimes called yellow wood, is considered superior. It is the golden yellow, lustrous, even-grained wood found in the Florida Keys and the West Indies.
It has long been valued for furniture. It is also used for musical instruments, veneers, and other purposes. Satinwood is classified in the division Magnoliophyta, class Magnoliopsida, order Sapindales, family Rutaceae.
Our reference: 07899