Antique Meissen Porcelain Cabinet Plate by Francesca Hirsch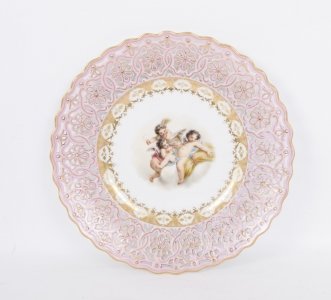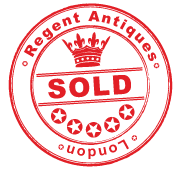 For weekly notifications of new arrivals in your categories of interest please click HERE.
This is a lovely antique
Meissen
porcelain cabinet plate by Francesca Hirsch, circa
1900
in date.
The centre is beautifully hand painted with three winged cherubs, one reclining on clouds and straw within a gilt border, with a broad pierced pink and gilt rim pierced with stylised flowerheads.

On the reverse the plate bears the impressed mark Meissen / 13 and faint H/X cipher.

There is no mistaking the quality and unique design of this plate which is sure to be a treasured addition to your home.

Condition:
In excellent condition, please see photos for confirmation of condition.
Dimensions in cm:
Height 3 x Width 22 x Depth 22
Dimensions in inches:
Height 1 inch x Width 9 inches x Depth 9 inches
Meissen porcelain or Meissen china is the first European hard-paste porcelain that was developed from 1708 by Ehrenfried Walther von Tschirnhaus. The production of porcelain at Meissen, near Dresden, started in 1710 and attracted artists and artisans to establish one of the most famous porcelain manufacturers, still in business today as Staatliche Porzellan-Manufaktur Meissen GmbH.

Its signature logo, the crossed swords, was introduced in 1720 to protect its production; the mark of the crossed swords is one of the oldest trademarks in existence. It dominated the style of European porcelain until 1756.

The first successful ornaments were gold decorations applied upon the fired body and finely engraved before they received a second firing at a lower temperature. Multicolour enamelled painting was introduced by Johann Gregorius Höroldt in 1723, with an increasingly broad palette of colours that marked the beginning of the classic phase of Meissen porcelain. Initially paintings often imitated oriental patterns. The signature underglaze "Meissen Blue" was introduced by Friedrich August Köttig. Soon minutely detailed landscapes and port scenes, animals, flowers, galante courtly scenes and chinoiseries— fanciful Chinese-inspired decorations— were to be found on Meissen porcelain.

The Albrechtsburg was utilized to protect the secrets of the manufacture of the white gold. As a further precaution, very few workers knew the special secret of how to make porcelain, and then perhaps only part of the process. Thus, for a few years, Meissen retained its monopoly on the production of hard-paste porcelain in Europe. By 1717, however, a competing production was set up at Vienna, as Samuel Stöltzel sold the secret recipe, which involved the use of kaolin also known as china clay.

Böttger early foresaw the production of tableware, and the first services were made in the 1720s. Initial services were plain, but Kaendler soon introduced matching decorations. Kaendler also produced the 1745 'New Cutout' pattern, characterized by a wavy edge cut. Other popular patterns are: 'Blue Onion', 'Court Dragon', 'Red Dragon ', 'Purple Rose' and 'Vine-Leaf'.

At the beginning the Meissen manufactory was owned by the King of Saxony; by 1830 it came to belong to the State of Saxony. After World War II, most of the equipment was sent to the Soviet Union as part of war reparations. After the German reunification in 1990, the company was restored to the State of Saxony which is the sole owner. While its products are expensive, the high quality and artistic value make Meissen porcelain very desirable by collectors and connoisseurs.
Angelica Kauffman, RA (1741 - 1807)
was a Swiss-born Austrian Neoclassical painter who had a successful career in London and Rome. Though born as "Kauffmann", Kauffman is the preferred spelling of her name in English; it is the form she herself used most in signing her correspondence, documents and paintings.
While Kauffman produced many types of art, she identified herself primarily as a history painter, an unusual designation for a woman artist in the 18th century. History painting, was considered the most elite and lucrative category in academic painting during this time period. Under the direction of Sir Joshua Reynolds, the Royal Academy made a strong effort to promote history painting to a native audience who were more interested in commissioning and buying portraits and landscapes.
Despite the popularity that Kauffman enjoyed in British society and her success as an artist, she was disappointed by the relative apathy that the British had towards history painting. Ultimately she left Britain for the continent, where history painting was better established, held in higher esteem and patronized.
The works of Angelica Kauffman have retained their reputation. By 1911, rooms decorated with her work were still to be seen in various quarters. At Hampton Court was a portrait of the duchess of Brunswick; in the National Portrait Gallery, a self-portrait. There were other pictures by her at Paris, at Dresden, in the Hermitage at St Petersburg, in the Alte Pinakothek atMunich, in Kadriorg Palace, Tallinn (Estonia).
Satinwood
is a hard and durable wood with a satinlike sheen, much used in cabinetmaking, especially in marquetry. It comes from two tropical trees of the family Rutaceae (rue family). East Indian or Ceylon satinwood is the yellowish or dark-brown heartwood of Chloroxylon swietenia.
The lustrous, fine-grained, usually figured wood is used for furniture, cabinetwork, veneers, and backs of brushes. West Indian satinwood, sometimes called yellow wood, is considered superior. It is the golden yellow, lustrous, even-grained wood found in the Florida Keys and the West Indies.
It has long been valued for furniture. It is also used for musical instruments, veneers, and other purposes. Satinwood is classified in the division Magnoliophyta, class Magnoliopsida, order Sapindales, family Rutaceae.
Our reference: 07371