Antique Victorian Gothic Revival Ormolu Book Slide Asprey c.1870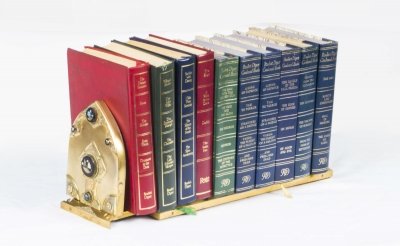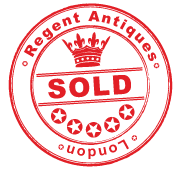 For weekly notifications of new arrivals in your categories of interest please click HERE.
This is a wonderful 19th century Gothic Revival
ormolu
self closing book slide with fabulous
Pietra Dura
decoration of Derbyshire black slate inlaid with semi precious gemstones in floral pattern, circa 1870 in date.
The underside bears the label of the world renowned retailer
Asprey London,
it is also stamped
BETJEMANN'S PATENT 6907
to one side and
SELF CLOSING BOOK SLIDE 6907,
on the other, for the specialist maker of book slides and vanity boxes,
Betjemann & Sons.
It is a delightful object which will display your favourite books beautifully.
Condition:
In excellent condition, please see photos for confirmation.
Dimensions in cm:
Height 19 x Width 58 x Depth 17 - when fully opened
Height 19 x Width 36 x Depth 17 - when closed
Dimensions in inches:
Height 7 inches x Width 1 foot, 11 inches x Depth 7 inches - when fully opened
Height 7 inches x Width 1 foot, 2 inches x Depth 7 inches - when closed
Asprey was established in England in 1781 and founded as a silk printing business by William Asprey, it soon became a luxury emporium. In 1841, William Asprey's elder son Charles went into partnership with a stationer located on London's Bond Street. In 1847 the family broke with this partner and moved into 167 New Bond Street, the premises Asprey occupies today.
From its central London location Asprey advertised 'articles of exclusive design and high quality, whether for personal adornment or personal accompaniment and to endow with richness and beauty the table and homes of people of refinement and discernment.' An early speciality was dressing cases. Asprey crafted traditional cases and designs, mostly in leather, suitable for the new style of travel ushered in by railways. The main competitors at the time were H.J. Cave & Sons. Asprey was recognised for its expertise when it won a gold medal for its dressing cases at the International Exhibition of 1862 but lost out to its rivals, H.J. Cave & Sons in 1867.
The company consolidated its position through acquisitions. In 1859 Asprey absorbed Edwards, an award winning maker of dressing cases and holder of a Royal Warrant. The company also purchased the Alfred Club at 22 Albemarle Street, which backed on to the New Bond Street store and meant that Asprey now had entrances on two of London's most fashionable streets.
In 1862, Asprey was granted a Royal Warrant by Queen Victoria. The Prince of Wales, later to be crowned Edward VII, granted another Royal Warrant. In 1953, for the coronation of Elizabeth II, Asprey paid homage with the Asprey Coronation Year Gold Collection, which featured a dessert, coffee and liqueur service in 18-carat gold and weighed almost 27 pounds. In April 1953, it went on show in the New Bond Street store and subsequently toured the United States.
As the business grew, the company acquired manufacturing facilities and hired silversmiths, goldsmiths, jewellers and watchmakers including Ernest Betjeman, the father of the distinguished poet John Betjeman, one of the most highly regarded craftsman and designers of his day.
In the twenties, commissions poured in from around the world, from American millionaire J. Pierpont Morgan to potentates such as the Maharaja of Patiala, who commissioned a huge teak travelling trunk for each of his wives in which each trunk was fitted with solid silver washing and bathing utensils with waterspouts of ornate tiger head and lined with blue velvet. Asprey cigarette cases became collectable amongst young sophisticates who delighted in its other modern products, including travel clocks, safety razors and automatic pencil sharpeners.
Betjemann & Sons
From 1859, based at 36-40 Pentonville Road, London, George Betjemann amd his two sons took the art of cabinet, box and book slide making to new heights. They specialised in designs for operating the way that different compartments in vanity boxes opened and also the sprung system for book slides.

Pietra dura is a term for the inlay technique of using cut and fitted, highly polished coloured stones to create images. It is considered a decorative art.
Pietre dure is an Italian plural meaning "hard rocks" or hardstones; the singular pietra dura is also encountered in Italian. In Italian, but not in English, the term embraces all gem engraving and hardstone carving, which is the artistic carving of three-dimensional objects in semi-precious stone, normally from a single piece, for example in Chinese jade.
The traditional convention in English has been to use the singular pietra dura just to denote multi-colored inlay work. However, in recent years there has been a trend to use pietre dure as a term for the same thing, but not for all of the techniques it covers, in Italian.
But the title of a 2008 exhibition at the Metropolitan Museum of Art, New York, Art of the Royal Court: Treasures in Pietre Dure from the Palaces of Europe used the full Italian sense of the term, probably because they thought that it had greater brand recognition. The material on the website speaks of objects such as a vase in lapis lazuli as being examples of "hardstone carving (pietre dure)"
The Victoria & Albert Museum in London uses both versions on its website, but uses pietra dura. "A method of inlaying coloured marbles or semi-precious stones into a stone base, often in geometric or flower patterns...."
Giovanni Montelatici (1864-1930) was an Italian Florentine artist whose brilliant work has been distributed across the world by tourists and collectors. Owners of Giovanni's work included Donald Trump.
Ormolu - (from French 'or moulu', signifying ground or pounded gold) is an 18th-century English term for applying finely ground, high-carat gold in a mercury amalgam to an object of bronze.The mercury is driven off in a kiln leaving behind a gold-coloured veneer known as 'gilt bronze'.
The manufacture of true ormolu employs a process known as mercury-gilding or fire-gilding, in which a solution of nitrate of mercury is applied to a piece of copper, brass, or bronze, followed by the application of an amalgam of gold and mercury. The item was then exposed to extreme heat until the mercury burned off and the gold remained, adhered to the metal object.
No true ormolu was produced in France after around 1830 because legislation had outlawed the use of mercury. Therefore, other techniques were used instead but nothing surpasses the original mercury-firing ormolu method for sheer beauty and richness of colour. Electroplating is the most common modern technique. Ormolu techniques are essentially the same as those used on silver, to produce silver-gilt (also known as vermeil).
Angelica Kauffman, RA (1741 - 1807)
was a Swiss-born Austrian Neoclassical painter who had a successful career in London and Rome. Though born as "Kauffmann", Kauffman is the preferred spelling of her name in English; it is the form she herself used most in signing her correspondence, documents and paintings.
While Kauffman produced many types of art, she identified herself primarily as a history painter, an unusual designation for a woman artist in the 18th century. History painting, was considered the most elite and lucrative category in academic painting during this time period. Under the direction of Sir Joshua Reynolds, the Royal Academy made a strong effort to promote history painting to a native audience who were more interested in commissioning and buying portraits and landscapes.
Despite the popularity that Kauffman enjoyed in British society and her success as an artist, she was disappointed by the relative apathy that the British had towards history painting. Ultimately she left Britain for the continent, where history painting was better established, held in higher esteem and patronized.
The works of Angelica Kauffman have retained their reputation. By 1911, rooms decorated with her work were still to be seen in various quarters. At Hampton Court was a portrait of the duchess of Brunswick; in the National Portrait Gallery, a self-portrait. There were other pictures by her at Paris, at Dresden, in the Hermitage at St Petersburg, in the Alte Pinakothek atMunich, in Kadriorg Palace, Tallinn (Estonia).
Satinwood
is a hard and durable wood with a satinlike sheen, much used in cabinetmaking, especially in marquetry. It comes from two tropical trees of the family Rutaceae (rue family). East Indian or Ceylon satinwood is the yellowish or dark-brown heartwood of Chloroxylon swietenia.
The lustrous, fine-grained, usually figured wood is used for furniture, cabinetwork, veneers, and backs of brushes. West Indian satinwood, sometimes called yellow wood, is considered superior. It is the golden yellow, lustrous, even-grained wood found in the Florida Keys and the West Indies.
It has long been valued for furniture. It is also used for musical instruments, veneers, and other purposes. Satinwood is classified in the division Magnoliophyta, class Magnoliopsida, order Sapindales, family Rutaceae.
Our reference: 06778