Pastel by Franco Matania The 3:30 Cheltenham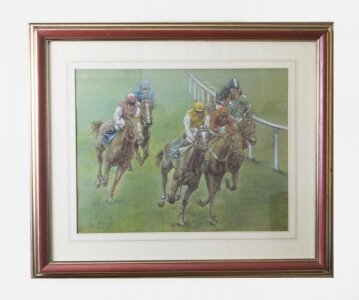 Click on image to zoom
For weekly notifications of new arrivals in your categories of interest please click HERE.
Our London showrooms
Open Mon to Fri 10am - 5pm
Open Sat 30th March 10am - 4pm
This is an absolutely stunning pastel entitled "3:30 Horse Race Cheltenham" signed by the Artist Franco Matania in the bottom left hand corner, dating from the second half of the 20th century.
The painting depicts five horses and jockeys racing to the finish line by Franco Matania, who was of Italian origin. He was a pupil of his uncle, the distinguished artist and illustrator Fortunino Matania RI (1881-1963). They were both competant in all media, though mainly in Conté and Pastel.
Franco Matania was a member of the United Society of Artists, the Society of Graphic Fine Art and Associate of the Society of Equestrian Artists.
1st prize Pastel Award Mall Galleries 1984. Society of Equestrian Artists Awards Mall Galleries 1986 and Westminster Galleries 1988. Works accepted 1960-88: RI Galleries, ROI, RA, Pastel Society, National Society, Graphic Society, and Equestrian Society.

It is an impressive and beautifully executed pastel set in a decorative gilded and red lacquer frame.
Condition:

In excellent condition.
Dimensions in cm:
Height 61 x Width 72 - Frame
Height 38 x Width 49 - painting
Dimensions in inches:
Height 2 feet, 0 inches x Width 2 feet, 4 inches - Frame
Height 1 foot, 3 inches x Width 1 foot, 7 inches - painting
Pastels.
The manufacture of pastels originated in the 15th century.
[6]
The pastel medium was mentioned by
Leonardo da Vinci
, who learned of it from the French artist
Jean Perréal
after that artist's arrival in Milan in 1499. Pastel was sometimes used as a medium for preparatory studies by 16th-century artists, notably
Federico Barocci
. The first French artist to specialize in pastel portraits was
Joseph Vivien
.
During the 18th century the medium became fashionable for
portrait
painting, sometimes in a mixed technique with
gouache
. Pastel was an important medium for artists such as
Jean-Baptiste Perronneau
,
Maurice Quentin de La Tour
(who never painted in oils), and
Rosalba Carriera
. The pastel
still life
paintings and portraits of
Jean-Baptiste-Siméon Chardin
are much admired, as are the works of the Swiss-French artist
Jean-Étienne Liotard
. In 18th-century England the outstanding practitioner was
John Russell
. In
Colonial America
,
John Singleton
Copley
used pastel occasionally for portraits.
In France, pastel briefly became unpopular during and after the
Revolution
, as the medium was identified with the frivolity of the
Ancien Régime
. By the mid-19th century, French artists such as
Eugène Delacroix
and especially
Jean-François Millet
were again making significant use of pastel. Their countryman
Édouard Manet
painted a number of portraits in pastel on canvas, an unconventional ground for the medium.
Edgar Degas
was an innovator in pastel technique, and used it with an almost
expressionist
vigor after about 1885, when it became his primary medium.
Odilon Redon
produced a large body of works in pastel.
James Abbott McNeill Whistler
produced a quantity of pastels around 1880, including a body of work relating to Venice, and this probably contributed to a growing enthusiasm for the medium in the United States. In particular, he demonstrated how few strokes were required to evoke a place or an atmosphere.
Mary Cassatt
, an American artist active in France, introduced the Impressionists and pastel to her friends in Philadelphia and Washington.
In the United States, the Society of Painters in Pastel was founded in 1885.
The Pastellists
, led by
Leon Dabo
, organized in New York in 1910.
Pastels have been favored by many modern artists because of the medium's broad range of bright colors. Modern notable artists who have worked extensively in pastels include
Fernando Botero
,
Francesco Clemente
,
Daniel Greene
,
Wolf Kahn
, and
R. B. Kitaj
.
Angelica Kauffman, RA (1741 - 1807)
was a Swiss-born Austrian Neoclassical painter who had a successful career in London and Rome. Though born as "Kauffmann", Kauffman is the preferred spelling of her name in English; it is the form she herself used most in signing her correspondence, documents and paintings.
While Kauffman produced many types of art, she identified herself primarily as a history painter, an unusual designation for a woman artist in the 18th century. History painting, was considered the most elite and lucrative category in academic painting during this time period. Under the direction of Sir Joshua Reynolds, the Royal Academy made a strong effort to promote history painting to a native audience who were more interested in commissioning and buying portraits and landscapes.
Despite the popularity that Kauffman enjoyed in British society and her success as an artist, she was disappointed by the relative apathy that the British had towards history painting. Ultimately she left Britain for the continent, where history painting was better established, held in higher esteem and patronized.
The works of Angelica Kauffman have retained their reputation. By 1911, rooms decorated with her work were still to be seen in various quarters. At Hampton Court was a portrait of the duchess of Brunswick; in the National Portrait Gallery, a self-portrait. There were other pictures by her at Paris, at Dresden, in the Hermitage at St Petersburg, in the Alte Pinakothek atMunich, in Kadriorg Palace, Tallinn (Estonia).
Satinwood
is a hard and durable wood with a satinlike sheen, much used in cabinetmaking, especially in marquetry. It comes from two tropical trees of the family Rutaceae (rue family). East Indian or Ceylon satinwood is the yellowish or dark-brown heartwood of Chloroxylon swietenia.
The lustrous, fine-grained, usually figured wood is used for furniture, cabinetwork, veneers, and backs of brushes. West Indian satinwood, sometimes called yellow wood, is considered superior. It is the golden yellow, lustrous, even-grained wood found in the Florida Keys and the West Indies.
It has long been valued for furniture. It is also used for musical instruments, veneers, and other purposes. Satinwood is classified in the division Magnoliophyta, class Magnoliopsida, order Sapindales, family Rutaceae.
Our reference: 06693
Please feel free to email or call us (+44 20 8809 9605) to arrange a viewing in our North London warehouse.
Shipping:
We ship worldwide and deliver to Mainland UK addresses free of charge.
A shipping cost to all other destinations must be requested prior to purchase.
To request a shipping quote for the items in your cart, please click HERE.
Delivery and return policy:
We require that someone be home on the agreed delivery day if applicable, otherwise a redelivery fee will apply.
In accordance with Distance Selling Regulations, we offer a 14-day money back guarantee if you are not satisfied with the item.
The item must be returned in its original packaging and condition.
Unless the item is not as described in a material way, the buyer is responsible for return shipping expenses.
Buyers are fully responsible for any customs duties or local taxes that may be incurred on items sent outside of the European Union.