Pair of Regency Bergere Armchairs Manner of Gillows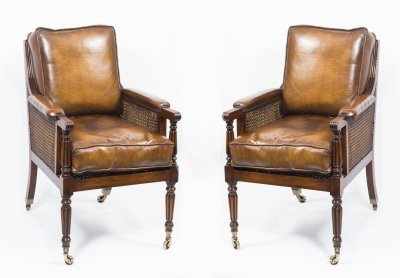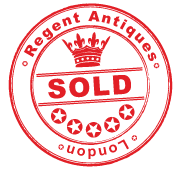 For weekly notifications of new arrivals in your categories of interest please click HERE.
This is a beautiful pair of Regency style flame mahogany library bergere armchairs in the manner of Gillows and dating from the late 20th Century.
They are made of solid mahogany with leather arm rests and stand on reeded front legs that terminate in brass cappings and castors, and splayed square section back legs terminating in square cup brass castors. The seats and backs are double caned and the tan leather upholstery is really comfortable and adds the finishing touch.
There is no mistaking their unique quality and design, which is certain to make them a talking point in your home.
Condition:
In excellent condition, please see photos for confirmation.
Dimensions in cm:
Height 100 x Width 66 x Depth 76
Height 49 - Seat Height
Dimensions in inches:
Height 3 feet, 3 inches x Width 2 feet, 2 inches x Depth 2 feet, 6 inches
Height 1 foot, 7 inches - Seat Height
Robert

Gillow

(1704–1772) was an English furniture manufacturer. He joined with a family of traders called

Sattersthwaite

and sailed with them to the West Indies as a ships carpenter. In Jamaica he became interested in mahogany and brought samples of the wood back to Lancaster in 1720. This may have been the first mahogany to be imported to England.
He founded the luxury furniture and furnishings firm Gillow of Lancashire in 1730. During the 1730s he began to exploit the lucrative West Indies trade exporting mahogany furniture and importing rum and sugar, in addition to fitting out ships cabins and doing finishing work in construction. The firm rapidly established a reputation for supplying high quality furniture and furnishings to the richest families in the country. They also had a London workshop in Thames Street. In 1764 a permanent London branch of Gillow's was established at 176 Oxford Road, now Oxford Street, by Robert's son, Thomas Robert Gillow, and William Taylor.

As well as working in solid mahogany, Gillows made veneered and painted furniture, and often used japanning to imitate inlay. As textiles came down in price, the firm moved into upholstery – staying ahead of the game in 1785 when it sent an upholsterer from London to work in the Lancaster factory. Gillows can be credited with many innovations. In the mid-1760s initiated and exploited the craze for billiard tables and produced a ladies' version, the trou-madame. He invented the extending dining table – including, in 1800, the telescopic version, the "Patent Imperial." The firm was inventive in adapting designs to customer's requirements – 1795 saw a round library table with a revolving top. It fitted secrétaires with movable drawers and partitions, like early filing cabinets, and it even made a bureau bedstead that served as a desk but pulled out to a bed.

The social or "gentleman's" table, horseshoe-shaped with japanned ice buckets, appeared around 1800, as did bonheurs du jour (ladies' writing tables). Another version of the social table was semi-circular, with a firescreen along the straight side and a sliding holder for bottles. The Davenport, a lady's desk, was featured in the sketchbooks from 1816. Gillows made medicine chests, powdering closets, linen presses, clothes horses, squirrel cages, meat safes, and boot jacks, not to mention coffins.

For over a century, the firm was known for its luxury furniture and furnishings. During the final years of the 19th century the company ran into financial difficulty and from 1897 began a loose financial arrangement with Waring of Liverpool, an arrangement legally ratified by the establishment of Waring & Gillow in 1903.
Thomas Sheraton
-
18th

century furniture designer, once characterized mahogany as "best suited to furniture where strength is demanded as well as a wood that works up easily, has a beautiful figure and polishes so well that it is an ornament to any room in which it may be placed." Matching his words to his work, Sheraton designed much mahogany furniture. The qualities that impressed Sheraton are particularly evident in a distinctive pattern of wood called "flame mahogany."

The flame figure in the wood is revealed by slicing through the face of the branch at the point where it joins another element of the tree.

A bergère is an enclosed upholstered French armchair with an upholstered back and armrests on upholstered frames. The seat frame is over-upholstered, but the rest of the wooden framing is exposed: it may be moulded or carved, and of beech, painted or gilded, or of fruitwood, walnut or mahogany with a waxed finish. Padded elbowrests may stand upon the armrests. A bergère is fitted with a loose, but tailored, seat cushion.

It is designed for lounging in comfort, with a deeper, wider seat than that of a regular fauteuil, though the bergères by Bellangé in the White House. A bergère in the eighteenth century was essentially a meuble courant, designed to be moved about to suit convenience, rather than being ranged permanently formally along the walls as part of the decor.
Angelica Kauffman, RA (1741 - 1807)
was a Swiss-born Austrian Neoclassical painter who had a successful career in London and Rome. Though born as "Kauffmann", Kauffman is the preferred spelling of her name in English; it is the form she herself used most in signing her correspondence, documents and paintings.
While Kauffman produced many types of art, she identified herself primarily as a history painter, an unusual designation for a woman artist in the 18th century. History painting, was considered the most elite and lucrative category in academic painting during this time period. Under the direction of Sir Joshua Reynolds, the Royal Academy made a strong effort to promote history painting to a native audience who were more interested in commissioning and buying portraits and landscapes.
Despite the popularity that Kauffman enjoyed in British society and her success as an artist, she was disappointed by the relative apathy that the British had towards history painting. Ultimately she left Britain for the continent, where history painting was better established, held in higher esteem and patronized.
The works of Angelica Kauffman have retained their reputation. By 1911, rooms decorated with her work were still to be seen in various quarters. At Hampton Court was a portrait of the duchess of Brunswick; in the National Portrait Gallery, a self-portrait. There were other pictures by her at Paris, at Dresden, in the Hermitage at St Petersburg, in the Alte Pinakothek atMunich, in Kadriorg Palace, Tallinn (Estonia).
Satinwood
is a hard and durable wood with a satinlike sheen, much used in cabinetmaking, especially in marquetry. It comes from two tropical trees of the family Rutaceae (rue family). East Indian or Ceylon satinwood is the yellowish or dark-brown heartwood of Chloroxylon swietenia.
The lustrous, fine-grained, usually figured wood is used for furniture, cabinetwork, veneers, and backs of brushes. West Indian satinwood, sometimes called yellow wood, is considered superior. It is the golden yellow, lustrous, even-grained wood found in the Florida Keys and the West Indies.
It has long been valued for furniture. It is also used for musical instruments, veneers, and other purposes. Satinwood is classified in the division Magnoliophyta, class Magnoliopsida, order Sapindales, family Rutaceae.
Our reference: 05330