Stunning Bespoke Handmade Victorian Walnut & Mahogany Marquetry Cabinet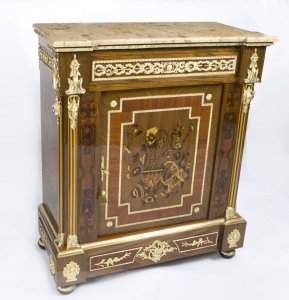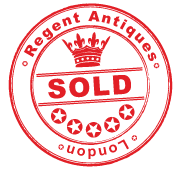 For weekly notifications of new arrivals in your categories of interest please click HERE.
This is an absolutely stunning bespoke handmade walnut and mahogany pier cabinet in the Victorian style.
This gorgeous cabinet features stunning floral marquetry decoration, exquisite ormolu mounts, and a beautiful 'Giallo di Sienna' marble top of the finest quality.

The cupboard door opens to reveal a capacious mahogany interior with a central shelf.

The attention to detail throughout is second to none and the craftsmanship on display is truly something to marvel at.
Condition:
This is a new bespoke handmade cabinet.

The making of a marquetry masterpiece
The making of a bespoke marquetry dining table involves many phases - carried out with the highest level of attention to detail - by third generation master craftsmen in our workshop in Italy.
First the design of the marquetry is drawn on paper.
The paper is then glued on to a sheet of plywood and the veneers are attached to the underside with pins.
There can be a maximum of 16 sheets of veneer. In this case, there are 8 for the burr walnut and 8 for the marquetry.
With a fret cutter, using a very fine blade, the marquetry is cut out, using the burr walnut and various coloured veneers to compose the flowers. Today we use an electric fret cutter, although in the 18th and 19th centuries the cutters were operated by treadles.
All of the cut out pieces of veneer are then placed on a large tray.
They are then singed by being placed in hot sand in a red hot crucible. This singed effect gives different shades to the various veneers, depending on how deep and how long they are left in the hot sand.
The various items of veneer are then inserted into the burr walnut one by one. After they are inserted, tape is placed over them to keep them in place. They are then turned over and a sheet of glued paper is placed over them all, after which the tape can be removed.
The prepared solid mahogany table is then veneered with mahogany - twice on the under side, horizontally and vertically, and then once on the top side.
The prepared marquetry and burr walnut sheet is then placed on top and the whole table top is placed into a hot press, which glues the sheet to the top.
The backing paper can then be sanded off.
The table top is then veneered 4 times to prevent the top from bowing or warping.
Once the assembly is complete, the table is French polished by hand using natural products, resulting in a stunning bespoke masterpiece of marquetry.
Dimensions in cm:
Height 113 x Width 99 x Depth 48
Dimensions in inches:
Height 3 feet, 8 inches x Width 3 feet, 3 inches x Depth 1 foot, 7 inches
Walnut
The Walnut woods are probably the most recognisable and popular of all the exotic woods, having been used in furniture making for many centuries. Walnut veneer was highly priced and the cost would reflect the 'fanciness' of the veneer – the more decorative, then the more expensive and desirable.

Figured Walnut and Burr Walnut (often referred to as Burl Walnut) were considered as the most attractive varieties of Walnut. Burr Walnut veneer was taken from the specific part of the tree where 'growths' sprouting smaller branches and/ or roots would occur. As these 'growth' areas were limited in both occurrence and size, larger veneers were hard to source and often on bigger furniture (tables, desks, bureaus, cabinets etc), these veneers would have to be carefully joined by matching up the pieces or blending them together.
Ormolu
(from French 'or moulu', signifying ground or pounded gold) is an 18th-century English term for applying finely ground, high-carat gold in a mercury amalgam to an object of bronze.The mercury is driven off in a kiln leaving behind a gold-coloured veneer known as 'gilt bronze'.
The manufacture of true ormolu employs a process known as mercury-gilding or fire-gilding, in which a solution of nitrate of mercury is applied to a piece of copper, brass, or bronze, followed by the application of an amalgam of gold and mercury. The item was then exposed to extreme heat until the mercury burned off and the gold remained, adhered to the metal object.
No true ormolu was produced in France after around 1830 because legislation had outlawed the use of mercury. Therefore, other techniques were used instead but nothing surpasses the original mercury-firing ormolu method for sheer beauty and richness of colour. Electroplating is the most common modern technique. Ormolu techniques are essentially the same as those used on silver, to produce silver-gilt (also known as vermeil).
Angelica Kauffman, RA (1741 - 1807)
was a Swiss-born Austrian Neoclassical painter who had a successful career in London and Rome. Though born as "Kauffmann", Kauffman is the preferred spelling of her name in English; it is the form she herself used most in signing her correspondence, documents and paintings.
While Kauffman produced many types of art, she identified herself primarily as a history painter, an unusual designation for a woman artist in the 18th century. History painting, was considered the most elite and lucrative category in academic painting during this time period. Under the direction of Sir Joshua Reynolds, the Royal Academy made a strong effort to promote history painting to a native audience who were more interested in commissioning and buying portraits and landscapes.
Despite the popularity that Kauffman enjoyed in British society and her success as an artist, she was disappointed by the relative apathy that the British had towards history painting. Ultimately she left Britain for the continent, where history painting was better established, held in higher esteem and patronized.
The works of Angelica Kauffman have retained their reputation. By 1911, rooms decorated with her work were still to be seen in various quarters. At Hampton Court was a portrait of the duchess of Brunswick; in the National Portrait Gallery, a self-portrait. There were other pictures by her at Paris, at Dresden, in the Hermitage at St Petersburg, in the Alte Pinakothek atMunich, in Kadriorg Palace, Tallinn (Estonia).
Satinwood
is a hard and durable wood with a satinlike sheen, much used in cabinetmaking, especially in marquetry. It comes from two tropical trees of the family Rutaceae (rue family). East Indian or Ceylon satinwood is the yellowish or dark-brown heartwood of Chloroxylon swietenia.
The lustrous, fine-grained, usually figured wood is used for furniture, cabinetwork, veneers, and backs of brushes. West Indian satinwood, sometimes called yellow wood, is considered superior. It is the golden yellow, lustrous, even-grained wood found in the Florida Keys and the West Indies.
It has long been valued for furniture. It is also used for musical instruments, veneers, and other purposes. Satinwood is classified in the division Magnoliophyta, class Magnoliopsida, order Sapindales, family Rutaceae.
Our reference: 02939