Stunning Pair Elegant Bronze Dancers A Leonard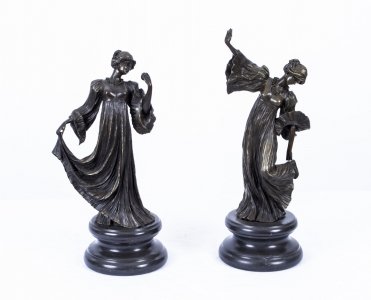 Click on image to zoom
For weekly notifications of new arrivals in your categories of interest please click HERE.
Our London showrooms
Open Mon to Fri 10am - 5pm
Open Sat 2nd March 10am - 4pm
Here we have a wonderful pair of female dancers in the timeless Art Nouveau style. They date from the last quarter of the 20th century and have been recast from originals. They bear the replica signature of the renowned French sculptor Agathon Leonard.
They are extremely lifelike and have been crafted with the finest attention to detail resulting in a compelling pair of beautiful bronze statuettes.
They are made from solid bronze and were produced using the traditional 'lost wax' method which is widely used for making art bronzes.
Condition
As you will see from the photos on this page, this pair of bronze statuettes of dancers are in excellent condition.
More Information about Agathon Leonard
Agathon Leonard also known as Leonard Agathon van Weydevelt was born in Lille in 1841 and was a French Art Nouveau sculptor. Belgian by birth, he moved to Paris when young and studied sculpture under Eugene Delaplanche at the Ecole des Beaux-Arts. He was admitted as a member of the Societe des Artistes Francais in 1887 and went on to become a member of the Societe Nationale des Beaux-Artes in 1897.
He exhibited regularly across France, and some of his best known works are of dancers, such as La Cothurne (Tragic Pose from Le Jeu d'escharpe), which he modeled in 1895 and cast in 1900. Another work was 'The Play of the Scarf' which was executed in 1897 in the typical 'fin-de-siecle' manner and rendered in gilt, shows a dancer in a flowing gown holding a billowing scarf above her head. This piece was inspired by the renowned dancer Lois Fuller and was shown as a table centerpiece in the Pavillion de Sevres in Paris during the 1900 World's Fair.
Additional Information About The 'Lost Wax' Method of Bronze Statuette Making
Employed by most societies almost everywhere in the world, bronze sculptures have been constructed by this method since at least the 3rd millennium BCE.
The technique makes use of a wax model of the piece to be cast, which is covered in plaster or clay to create a mold. The wax is warmed and drained off once the mold is set. If a hollow bronze statue is called for then the wax model is built around a heat proof core. Molten bronze is put into the mold and left to set. Once the metal has cooled sufficiently, the mold is broken open to show the bronze statue inside.
Additional Details and Arranging a Viewing
When considering bronze statuettes of this high quality it is really better to see them in person. Nonetheless we realise that this is not always possible.
You are welcome to email us or call us by using the contact information displayed above with any queries you might have about this superb pair of bronze statuettes. We would also be pleased to organise a viewing of this and our other sorts of bronzes at our North London warehouse and showroom. Please email us or call for an appointment, quoting our reference as shown above so we know which of our many bronze statuettes you are interested in.
Our showroom is open from 10am to 5pm every weekday and also on occasional Saturdays - please call first before making a journey on a Saturday to make sure that we are around on your chosen day.
Shipping, Delivery and Return
You are considering exquisite bronze statuettes which will require careful packing and shipping to their final location - your home or other venue. We can pack and ship bronze statuettes of dancers to nearly any location internationally, but we request that you be sure to call or email for a shipping quote prior to making a purchase these items so that we can fully discuss your requirements.
We ship to any mainland UK address at no cost. If you are not happy with these items we offer a 14-day money back guarantee in conformity with the Distance Selling Regulations. You will be accountable for the return shipping fees for these bronze statuettes of dancers, unless we have inaccurately described them in some material way and you do not get what you were expecting. You must return the items in their original packaging and condition.
You are also accountable for any customs duties or local taxes that become due outside the European Union.
Dimensions in cm:
Height 39 x Width 23 x Depth 16 & Weight 5.5 kg
Height 37 x Width 23 x Depth 16 & Weight 5.5 kg
Dimensions in inches:
Height 1 foot, 3 inches x Width 9 inches x Depth 6 inches & Weight 12.1 lbs
Height 1 foot, 3 inches x Width 9 inches x Depth 6 inches & Weight 12.1 lbs
Angelica Kauffman, RA (1741 - 1807)
was a Swiss-born Austrian Neoclassical painter who had a successful career in London and Rome. Though born as "Kauffmann", Kauffman is the preferred spelling of her name in English; it is the form she herself used most in signing her correspondence, documents and paintings.
While Kauffman produced many types of art, she identified herself primarily as a history painter, an unusual designation for a woman artist in the 18th century. History painting, was considered the most elite and lucrative category in academic painting during this time period. Under the direction of Sir Joshua Reynolds, the Royal Academy made a strong effort to promote history painting to a native audience who were more interested in commissioning and buying portraits and landscapes.
Despite the popularity that Kauffman enjoyed in British society and her success as an artist, she was disappointed by the relative apathy that the British had towards history painting. Ultimately she left Britain for the continent, where history painting was better established, held in higher esteem and patronized.
The works of Angelica Kauffman have retained their reputation. By 1911, rooms decorated with her work were still to be seen in various quarters. At Hampton Court was a portrait of the duchess of Brunswick; in the National Portrait Gallery, a self-portrait. There were other pictures by her at Paris, at Dresden, in the Hermitage at St Petersburg, in the Alte Pinakothek atMunich, in Kadriorg Palace, Tallinn (Estonia).
Satinwood
is a hard and durable wood with a satinlike sheen, much used in cabinetmaking, especially in marquetry. It comes from two tropical trees of the family Rutaceae (rue family). East Indian or Ceylon satinwood is the yellowish or dark-brown heartwood of Chloroxylon swietenia.
The lustrous, fine-grained, usually figured wood is used for furniture, cabinetwork, veneers, and backs of brushes. West Indian satinwood, sometimes called yellow wood, is considered superior. It is the golden yellow, lustrous, even-grained wood found in the Florida Keys and the West Indies.
It has long been valued for furniture. It is also used for musical instruments, veneers, and other purposes. Satinwood is classified in the division Magnoliophyta, class Magnoliopsida, order Sapindales, family Rutaceae.
Our reference: 02902
Please feel free to email or call us (+44 20 8809 9605) to arrange a viewing in our North London warehouse.