Antique Art Deco Dining Table & Chairs

Our north London showroom is most definitely a recommended stopping-off place for lovers of Art Deco Furniture and other Art Deco collectables and decorative items and it is for all lovers of Art Deco furniture that we are featuring this Antique Art Deco Dining Table which is available with a matching set of Art Deco Dining chairs: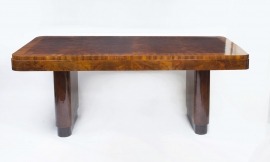 Dating from around 1920, a period when Art Deco  was very popular both here and overseas, this is a beautifully made table which is available with a set of six matching chairs. The material used to make the table is burr walnut, notable for its striking grain which makes it an expensive and desirable timber.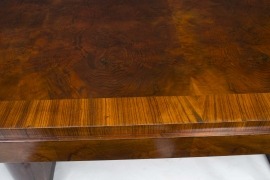 This table is of very robust construction and measures some 6 ft 7 inches, (201cm),  in length which can accommodate up to 6 people in comfort. The other measurements are 2ft 7in high x 3ft 4in deep – that's 80cm and 102cm respectively.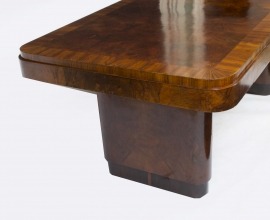 Offered for just £4900 this striking dining room set has been lovingly restored in our own workshops and is available for shipping worldwide – please contact us for a shipping quote to your destination.
The set of six Art Deco dining chairs have been beautifully re-upholstered in white leather with red piping and chrome studs. The chair backs are beautifully veneered in burr walnut to complement the table.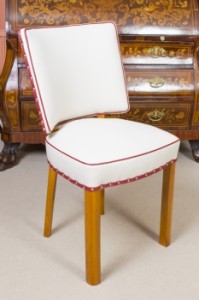 The chairs are 3 ft high by 1 ft, 8 in deep and 1 foot 10 inches wide – or if you prefer, 91cm x  51cm x 57cm.
We are currently stocking a nice range of Art Deco furniture and if you can't make it to London, don't despair – you can just call +44 20 8809 9605 and talk to one of our antique experts or, if you prefer, email us at info@regentantiques.com.
There are lots more photographs of this lovely Art Deco dining set here and you can see more of our Art Deco inventory here.